Security and Special Services
Welcome to the Security Division
GSA Security has been awarded the TOP 500 Security Leaders Award plaque, placing 13th on the list for the "Biggest and Best Security Organization in the World."
This is our 10th consecutive year being awarded this highly prestigious award.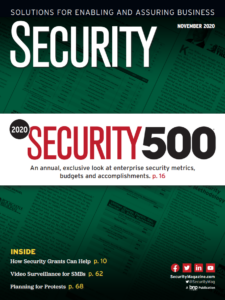 The Security division administers and monitors the Security Guard contract for the Government Center & outlying properties.
We are pleased to provide a variety of services to our County staff and guests at our Government Center Campus location and our outlying county facilities.
Here are some of the services we provide:
Security improvements to facilities and placement of security devices
24-hour monitoring of safety systems and alarms
Requests for assistance
Reporting and investigating incidents
Escorts for contractors, employees and public tours
Building access
Identification badges and access cards
Parking enforcement
Parking and carpool permits
Fire/emergency drill training
Vulnerability and risk assessments
David Barley
Sean Payne
James Dollar
Patrick Squires
Stephanie Peres
Reyleen Dowler
Vacant
Division Manager
Security Operations Manager
Security Manager
Housekeeping & Grounds Manager
Special Services
Management Assistant
H&G Management Assistant
David Barley
Division Manager
Security, Special Services, Housekeeping & Grounds
You can contact our Security Control Center for non-emergency concerns at
805-654-2931 or 805-654-2345
24 hours a day 365 days a year
For Emergencies Dial 911