Accident, Lost, or Stolen Asset Reporting
ACCIDENT REPORTING PROCEDURES
Regardless of fault, complete the "Driver's Report of Accident" found in the Accident Reporting Kit *(typically located in the vehicles glove box). Send a copy of the accident report to GSA / Fleet Services, Mail code 5030.*
Regardless of damage, all vehicle accidents must be reported and the vehicle taken to County of Ventura GSA Fleet Services within 24 hours for inspection.
Arrange for towing (if necessary) and for a vehicle repair estimate by calling GSA / Fleet Services dispatch office at (805) 672-2060, Monday through Friday from 8:00am to 5:00pm. For emergency towing after hours, call (805) 672-2060 and follow the prompts provided.
Report vehicle accidents involving the public to CEO Risk Management during normal office hour's 8:00am to 5:00pm, Monday through Friday at (805) 654-3126.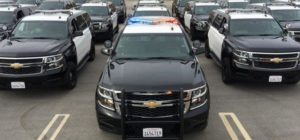 PROCESS TO REPLACE COUNTY ASSETS THAT ARE DAMAGED, LOST, OR STOLEN
All damaged Fleet vehicles and equipment are out of service until they are brought immediately to Fleet Operations and a accident report is completed.
Reports are made to Sheriff Department, Risk Management and Fleet Operations, by the using department, if equipment is lost or stolen.
Equipment is evaluated by Fleet Operations to determine extent of damage. Any vehicle/equipment involved in an accident will be brought to Fleet Operations regardless of the apparent damage, immediately and not put back into service until it is inspected by Fleet Operations.