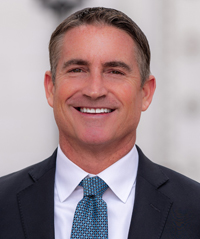 District 2 – Supervisor Jeff Gorell

2100 E Thousand Oaks Blvd, Suite E
Thousand Oaks, CA 91362
Phone: (805) 214-2510 | Fax: (805) 480-0585
Toll Free Number: (800) 660-5474
Email: supervisorgorell@ventura.org
Communities Represented:
City of Thousand Oaks, Northern and Eastern portions of the City of Camarillo, Newbury Park, Westlake Village, Oak Park, Hidden Valley, Lake Sherwood, Somis, Las Posas Valley, Camarillo Springs, Camarillo Heights, Casa Conejo, Santa Rosa Valley, Ventu Park, and South Coast.
Welcome to Ventura County Supervisor Jeff Gorell's Website.
Dear Neighbors,
It is an honor to serve you as Ventura County Supervisor for the Second District.
I am committed to preserving the wonderful quality of life we enjoy in Ventura County, and making your county government more functional, accountable and transparent. My priorities are as follows – to ensure safe neighborhoods; attract new middle-class jobs to the County; address the monumental challenge of homelessness; and preserve our open spaces and environment.
Thank you for allowing me to be your voice and your vote before county government, and please do not hesitate to reach out to me or to my office if we can be of assistance.
Sincerely,
Supervisor Jeff Gorell
Board of Supervisors
County of Ventura
Sidewalk Office Hours
Every month, Supervisor Jeff Gorell picks a different spot in District 2 to meet with constituents. Join Supervisor Gorell for an open dialogue about the County issues that matter to you. If you have a serious County issue or concern, a staff member will be on-hand to open a case file for you. Come on by Sidewalk Office Hours.
Upcoming Sidewalk Office Hours
Friday, September 29th 12:00 PM – 2:00PM


Tarantula Hill Brewing Co
244 Thousand Oaks Blvd
Thousand Oaks, CA 91360