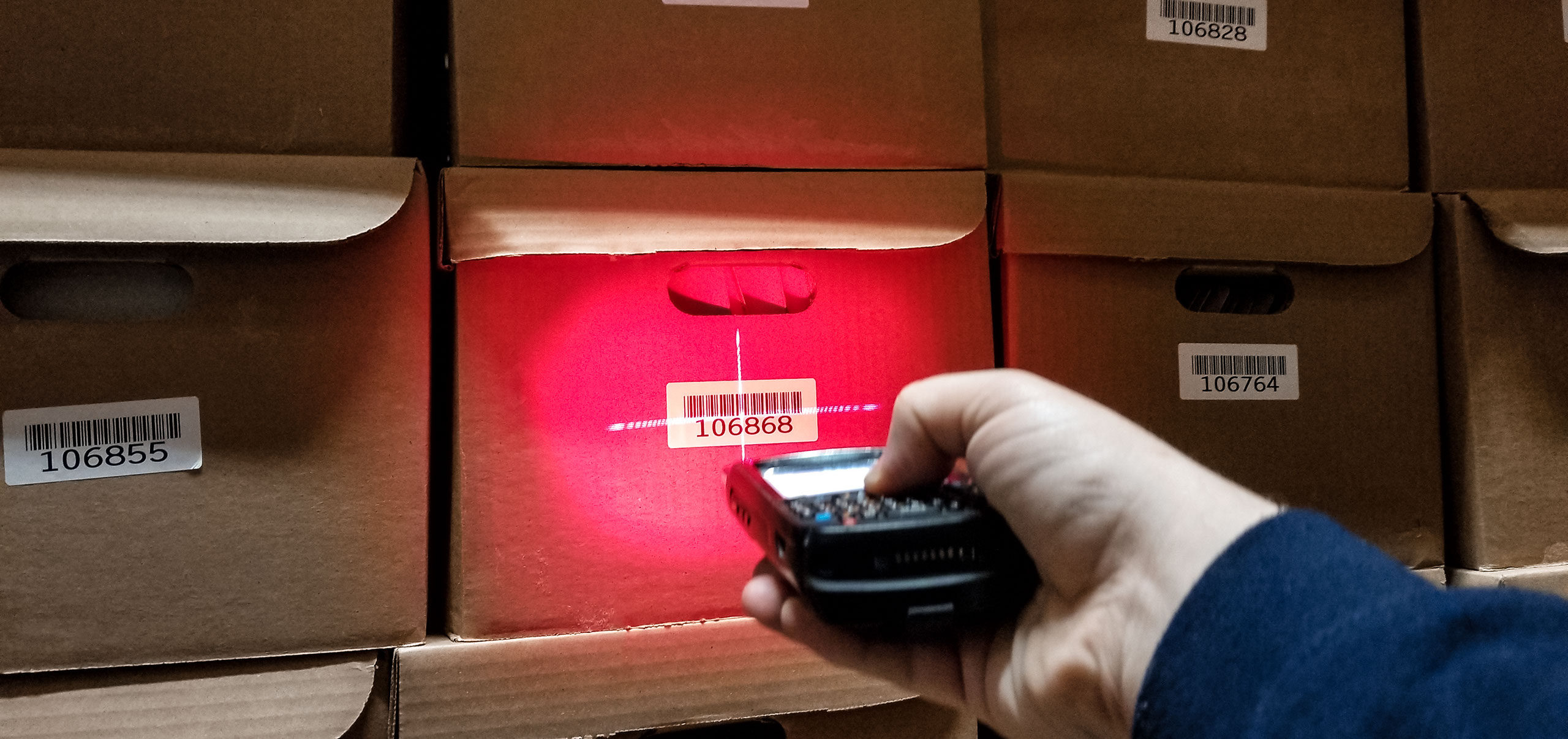 RECORDS STORAGE
Order, submit and manage your records with our easy to use Online Portal. e also utilize the County's Courier system to deliver and receive your records safely.
COUNTY WAREHOUSE
Storing your records at our On-site facility enables us to quickly process your orders, most being delivered within 24 to 48 hours, or less. Rush services are also available.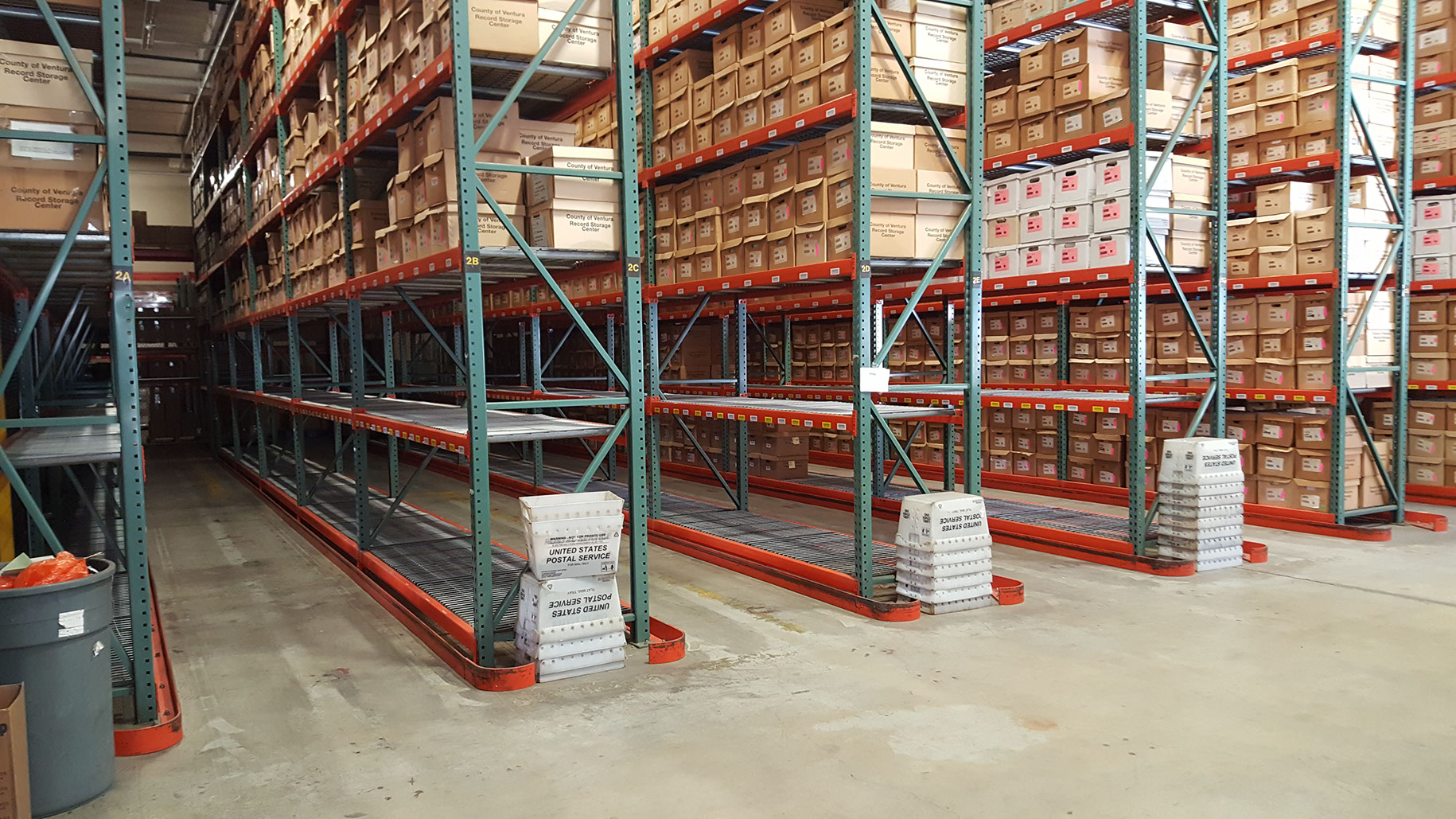 RETENTION PLANS
Utilizing retention schedules, we can help save you long-term storage fees of outdated records by returning or securely shredding them with you signed approval.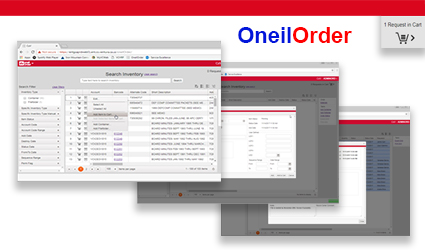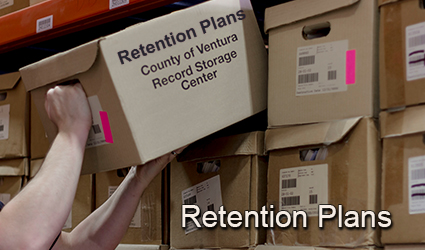 Secure document storage and management for the County of Ventura
Secure Record Storage
Records are maintained at the Government Center General Service Building in a secure environment.
OneilOrder Saves Time & Costs
Streamlined data entry via the web-portal reduces lead time, redundancies, and generates hard and soft savings!
Web-Based Ordering
View, order, manage, and submit records to the Records Warehouse through an easy to use web-portal.
Scheduled Destructions
Based on retention schedules, the Records will destroy or return your records, but ONLY with signed approval.
On-Site Training
We provide on-site training sessions for all customers who are new, or transitioning to the new ordering system.
Courier Delivered
Receive, return, and submit your records by utilizing the County's reliable courier service.
In Need of Training for OneilOrder?
To request training in the use of the OneilOrder web portal to order, view, edit, and/or enter new records, please download and complete the Training Request Form from the above menu and email it to GSA.Records@ventura.org.
Our Most Common Help Requested Areas:
Missing OK, or SELECT button
There are some menus that when opened do not provide you with an OK or Select option to confirm your choice, most notably the PRIORITY field when placing a delivery order. To continue, simply right-click on your selection and click OK on the options that display. When in doubt about a missing button, try right-clicking.
Known Compatibility Error
In some instances, Internet Explorer will not correctly load and/or display the OneilOrder page after you submit your password. If you are affected by this error, please try to access the page through either the Chrome or Firefox web browser. This may require contacting I.T. to request one of the programs to be installed if they are not already on your system.
If you are encountering other errors not listed above, please feel free to CONTACT US for assistance.
In need of Document Storage Services?
The Records Warehouse
If you are in need of document storage, then the GSA Records Warehouse is the solution you are looking for. Located at the GSA Service Building on campus at 800 South Victoria Avenue, we utilize the County's courier system to have your records picked up or dropped off within 24-48 hours, if not sooner. We also allow on-site visits, so you can come and view your records as soon as we pull them. Rush delivery and rush on-site visits are also available as needed.
Web-Portal
We have implemented a new web-portal called OneilOrder, allowing our customers to easily order their records, as well as manage their details such as description, destruction date, record series codes, and almost all other points of data. Entering the data for new records through this portal has also resulted in the reduction of redundant steps, removing data entry fees and saving the county money, as well as reducing the processing time needed to receive new containers.
Training
We gladly offer training for all new users of the OneilOrder system to ensure they are comfortable with its features and uses, as well as a refresher session for any who might request it. Training is under 2 hours, and performed at your office or work-station, with one-on-one or group sessions available. If you are already storing records with us, and have not yet been trained, please visit the Request Training page, and we will set you up with a web-portal account and schedule a time for training. If you are not yet storing records at the GSA Records Warehouse, please continue down where you will find the information needed to begin storing your records with us.
Retention Schedules
The GSA Record Center provides a retention policy management platform that is easy to use and setup to ensure proper retention schedules and policies. A managed retention series brings order and security across your records, while providing compliance with county ordinances and state law.  Risk management is enhanced with the ability to freeze and identify records involved with discovery or litigation. With scheduled reports and action, GSA can guide you to review and approve confidential destructions reducing costs and freeing up valuable office space.
Please note that no record will be destroyed without signed approval by individuals who are authorized to do so. When a file is "Destroyed" from the warehouse, that does not always mean a physical destruction. We call this disposition, and we can process destructions as a physical destruction, or we can pull the records and return them to the appropriate individuals, per the disposition declared in the retention schedule via the record series code.
Getting Started
If you are interested in storing your records at the GSA Records Warehouse, please fill out the Storage Needs Questionnaire below, and email to GSA.records@ventura.org, and we will be in contact with you shortly. You may also request a tour of our facility by emailing us at the above address.
We gladly offer training for all new users of the OneilOrder web-portal to ensure they are comfortable with its features and users, as well as offer refresher sessions for any who might request it. training is under 2 hours, and will require a computer with access to the intranet. Preferably, this is at the workstation where the ordering/submitting will take place, though it can be in a conference room or elsewhere for larger groups when needed. We can also do multiple sessions to accommodate people's schedules as needed.
The portal allows you to view your records and their associated details, place order for records, and add the details for new boxes to a formatted window rather than a PDF transfer sheet. This software will also allow you to edit any of the details of your current records as needed, for example, if you wanted to extend the Destruction Date or add additional notations. The benefit of this being a web portal means that you can sign in with your credentials from any computer on the County's intranet without needing additional software installed.
The system is fairly straightforward, with the ordering function similar to that you might find on amazon.com or similar sites that use a cart and item filters. However, if you do find yourself in a situation where you need assistance, this website has a support page found HERE that has our OneilOrder Quick Start Guide and a few pointers. You are also welcome to call or email us with any questions or help that you might need.
If you are interested in training and are:
ALREADY storing containers with us, please download and fill out the Request Training form, and email it to GSA.records@ventura.org.
NOT YET storing anything with us, please see our "In Need of Storage" page for more information on how to begin submitting your records to the GSA Records Warehouse.
For information on the GSA Scan Center and how your office might benefit from the services it offers, please see the following list of features and contact:
Joshua Gannon
GSA Business Support
Joshua.Gannon@ventura.org
Office: (805) 662.6863
AIM Capabilities
AP Process Improvement/Automation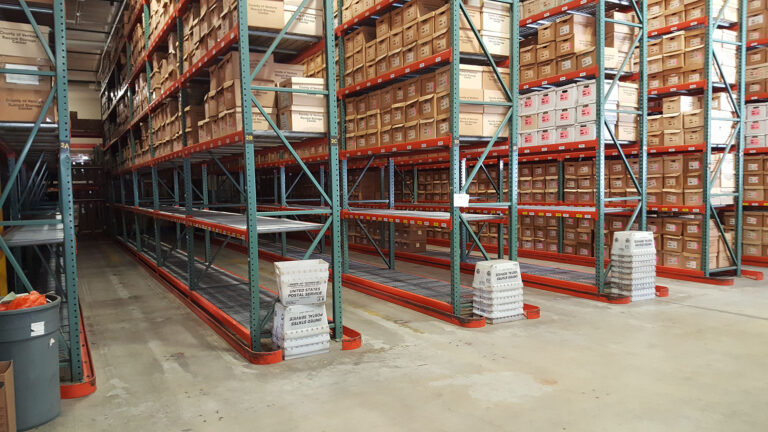 The GSA Records Center is located at the GSA Service Building on campus, at 800 South Victoria Avenue in Ventura. Currently, we are managing over 70,000 containers for the various county agencies, with 500,000 tracked file folders, all of which are stored in our secure facility. With our new web portal called OneilOrder, you can now view, manage, and submit container and file-folder data, and request records to be delivered or viewed on-site at the records warehouse. Records requested for delivery are delivered within 24 to 48 hours of being placed, if not sooner. We utilize the County's courier system to send and receive records but will also schedule large-scale pickups for bulk transfers as needed. We also offer rush services as needed. You can find out more about OneilOrder
here
.
GSA RECORDS WAREHOUSE
Office: (805) 650 – 4015
Brown Mail # 3150
We are located on-campus at 800 South Victoria Ave in Ventura, at the GSA Service Building.
ONEILORDER
To request stored records, view, manage, or submit new containers to the warehouse,
please log in to the web-portal, OneilOrder.
TRAINING
To request training for the use of the OneilOrder web portal, please Download
and fill out The Training Request Form, and send it to GSA.Records@ventura.org.
NEW EMPTY RECORDS BOXES
To order new GSA Records Storage Boxes (# 60-Box),
 please email GSAStore.Surplus@ventura.org and indicate:
Your name and department,
Your budget unit,
The number of "

#60-box

" containers requested,
Your brown mail or delivery address.