Ventura County Government Center
Hall of Administration Building, Fourth Floor
800 S. Victoria Ave.
Ventura, CA 93009-1940
CLERK OF THE BOARD OF SUPERVISORS
Prop 8 - Decline in Value, and Prop 13 - Property Tax Limits
The base year value of real property (land and buildings) is assessed upon change in ownership or completion of new construction on the property. The Assessor's Office will inform owners of the base value by mailing a "Notice of Supplemental Assessment". Under Proposition 13 the annual maximum limit that the property can be assessed at is a rate not exceeding 2% for each year, to account for inflation. This means that a properties adjusted base value can go up 6% from the original value over a 3 year period.
In the event that there is a Market downturn, and a property would now sell for less than the adjusted purchase price, the property owner is protected by the Decline in Value law known as Proposition 8. When there is market evidence that the property would sell for significantly less than the value established under Proposition 13, the assessed value can be temporarily reduced to a lower value and is applied on a yearly basis. Values determined under Proposition 8 only apply to one assessment year, therefore when the market begins to recover, the property value can increase more than 2% per year, until it reaches the assessed value limit determined under Proposition 13. The 2% per year value change limit does not apply to assessments made pursuant to Proposition 8, it only applies to the base value set under Proposition 13.
Visual graph explanation of Proposition 8 and Proposition 13: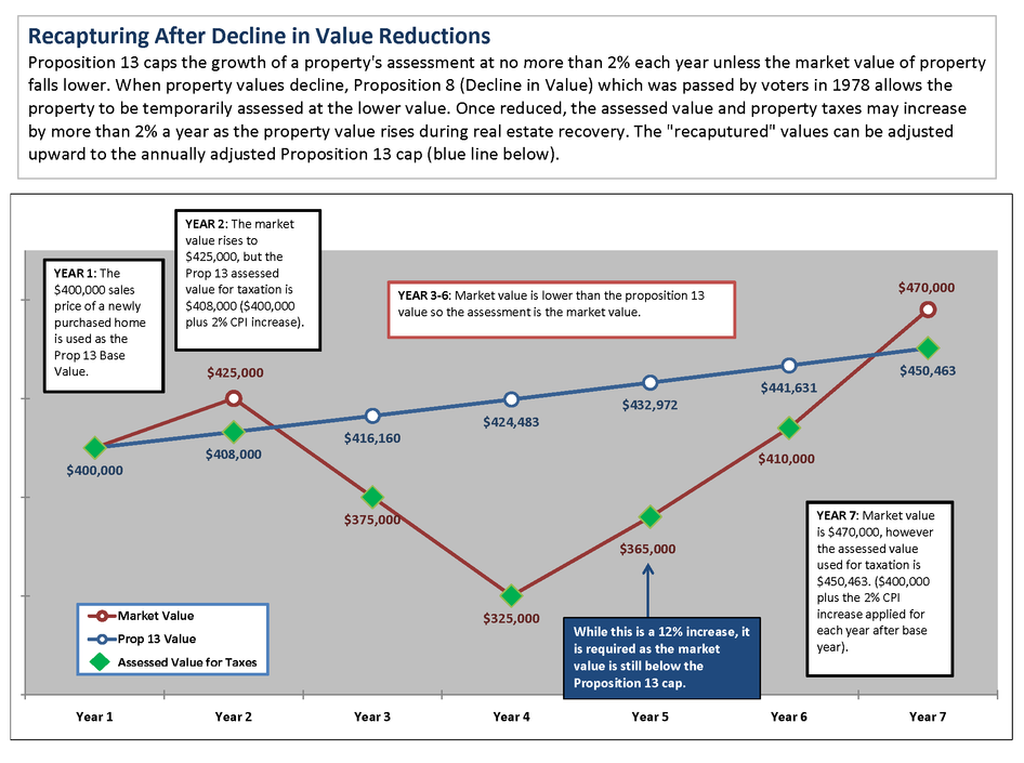 For more information on how property value is determined,
visit the Assessor's Office website at https://assessor.countyofventura.org or call them at (805) 654-2181 or read the California State Board of Equalization's Publication 29 by clicking here.