There are 52 Agricultural Commissioners in 58 counties across California. They are part of a network of regulatory agencies charged with enforcing regulations affecting agriculture.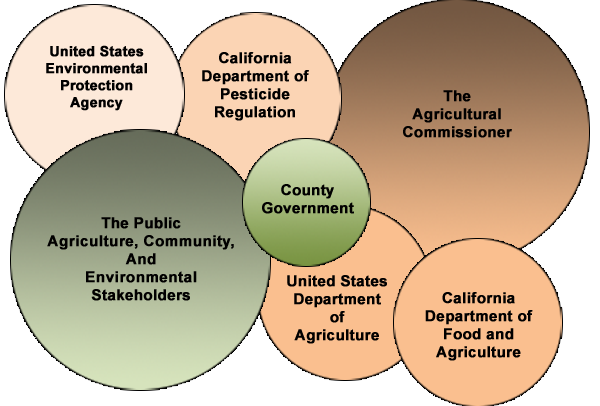 The Agricultural Commissioner has a unique relationship to his parents. The commissioners is funded by federal, state and county governments to regulate the agricultural industry. The commissioner also collects fees for providing services to the agricultural industry and to the public. The commissioner is licensed by the State of California and appointed by the county Board of Supervisors to a four year term.
OUR MISSION
To protect and promote agriculture, while ensuring the welfare of the public, the industry, and the environment.
OUR VISION
The Ventura County Agricultural Commissioner's Office is the leader in promoting and protecting agriculture in Ventura County. Working together with all Ventura County stakeholders, the Agricultural Commissioner builds the necessary structures for long term success into the future. The Ventura County Agricultural Commissioner's Office identifies challenges as they are forming and quickly develops appropriate actions to reach a positive outcome. Excellence of service and continued improvement are key parts of the very structure and operation of the Department.
OUR VALUES
Integrity
Respect
Fairness
Teamwork
Transparency
NOTE: As a convenience to our visitors, this page may contain links to external websites that are not managed or controlled by the County of Ventura.