OJAI VALLEY TRAIL, VENTURA/OJAI
The Ojai Valley Trail is a 9 mile trail that parallels Highway 33 from Foster Park on the outskirts of West Ventura, to Fox Street in Ojai. One side of the trail is paved for bicyclists, walkers, joggers, and people exercising their pets. Post-and-rail wood fence separates the paved path from a dirt bridle path for horseback riders. Sections wind through wooded areas and past riverbeds.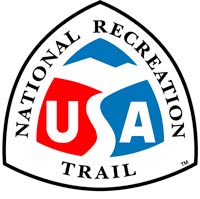 This trail has earned National Recreation Trails designation as "Ventura River Parkway Trail" that incorporates two existing trails the Ventura River Trail and the Ojai Valley Trail and connects to the Omer Rains Coastal Trail and the Juan Bautista de Anza National Historic Trail that travel north along the coastline through  Emma Wood State Beach.  Visit the NRT website for more information at https://www.nrtdatabase.org/trailDetail.php?p=NRTDatabase/trailDetail.php&recordID=3866.
The Shelf Road Trail is an unpaved road that traverses the cliffs several hundred feet above the northern edge of Ojai. The trail has several scenic overlooks with dramatic views of the Ojai Valley. Hikers, bicyclists, dog walkers, and runners enjoy this easy to moderate walking path.
SULPHUR MOUNTAIN TRAIL, OJAI
The Sulphur Mountain Trail is 11 miles of dirt road with tight switchbacks and fantastic views of the Ojai Valley and surrounding mountain ranges. Nature lovers will enjoy a variety of wildlife, which includes deer, coyotes, bobcats, foxes, red-tail hawks, rattlesnakes, tarantulas and roadrunners. A small number of private residences are just off the trail. Stay on the trail at all times and obey all "No Trespassing" signs. Motor vehicles are strictly prohibited.