The Ojai Valley Trail is a 9 mile trail that parallels Highway 33 from Foster Park on the outskirts of West Ventura, to Fox Street in Ojai. One side of the trail is paved for bicyclists, walkers, joggers, and people exercising their pets. Post-and-rail wood fence separates the paved path from a dirt bridle path for horseback riders. Sections wind through wooded areas and past riverbeds.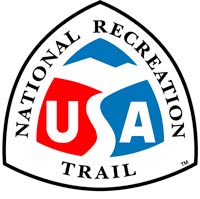 This trail has earned National Recreation Trails designation as "Ventura River Parkway Trail" that incorporates two existing trails the Ventura River Trail and the Ojai Valley Trail and connects to the Omer Rains Coastal Trail and the Juan Bautista de Anza National Historic Trail that travel north along the coastline through  Emma Wood State Beach.  Visit the NRT website for more information at http://www.americantrails.org/NRTDatabase/trailDetail.php?recordID=3866.
The Ventura County Public Works Agency is constructing a new bypass storm drain facility in the Casitas Springs community that will require closure of the Ojai Valley Trail from 20 August 2019 – 20 January 2020. The trail will be closed between the Arroyo Mobile Home Park to the North ad Foster Park to the South.
There is an alternate route (Santa Ana Blvd. to Santa Ana Rd. to Casitas Vista Rd) available for trail users. If you have any questions please call VCWPD.  BIKE Alternate Route Map.