MITCHELL EDELSON DOG PARK AT SOULE PARK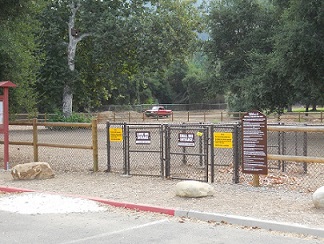 The Mitchell Edelson Dog Park at Soule Park is open during normal park operating hours, seven days a week.
The Dog Park project was funded through individual donations and the Parks Enterprise fund.
The Dog Park consists of two separate fenced-in play areas, one for large dogs and the other for small dogs weighing under 20 lbs. The enclosure entrance is double- gated, which prevents dogs that are inside the enclosure from escaping when another dog enters the enclosure. There are benches, mature oak tree shade trees, and doggie water fountains.
For the safety of humans and animals, park rules and dog etiquette guidelines have been established by Ventura County Parks Department and County Animal Services and are strictly enforced. Pets must be under control at all times and owners must be able to show proof of proper licensing. The rules that apply to the Mitchell Edelson Dog Park are clearly posted at the entrance of the dog park enclosure.
Dogs must be licensed to use this facility. Call Ventura County Animal Services at 805-388-4341 for instructions on how to obtain proper licensing for your dog. Dog owners must clean up after their dogs. Mutt Mitts and waste receptacles are readily available onsite for your convenience. Owners that fail or refuse to clean up after their dogs may be cited by County staff.
Dogs may be taken off leash after entering the designated dog park areas. Dogs must be supervised by a responsible person over the age of 18 for the duration of your visit at the dog park. Dogs that are left unattended in the dog park may be impounded by County Animal Services personnel.
The Dog Park area is monitored by the Ventura County Animal Services, Ventura County Parks Department, Ventura County Sheriff's Department, and the Park Host at Soule Park. Please obey all park rules and regulations for everyone's safety and enjoyment.