The Ventura County Parks Department offers over 20 miles of trails for hiking, biking and horseback through Ventura County's breathtaking scenery. These trails are perfect for individuals looking for an adventure close to home, school groups of varying ages, those looking for exercise, or even those who come from different states or nations looking to enjoy the unique beauty that Ventura County holds.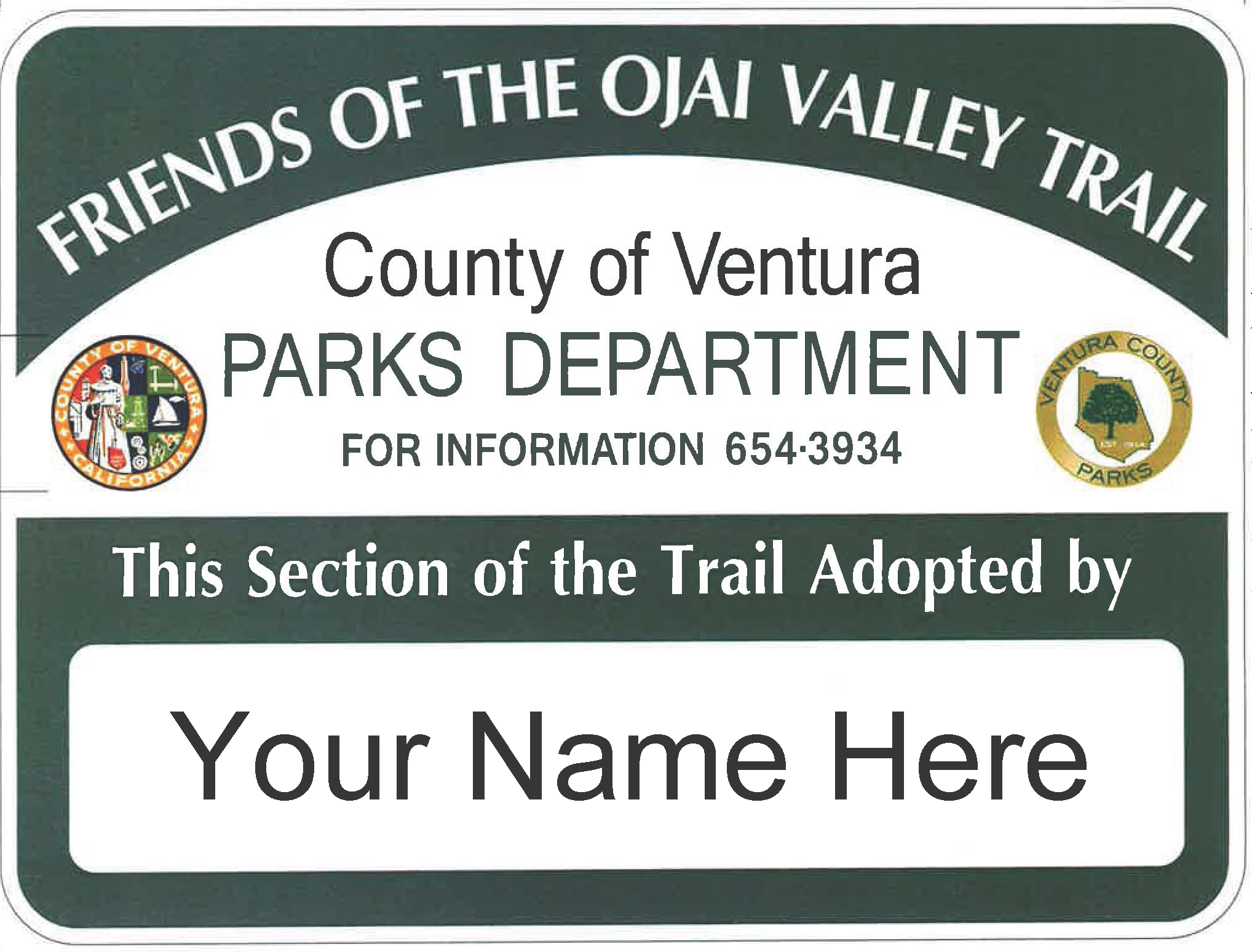 The Adopt-A-Trail program is designed with conservation in mind and good stewardship of the public's land as its goal. The program focuses on engaging organizations throughout the community that want to make a difference by getting them involved in helping County Parks conserve and maintain your trail system. Organizations are encouraged to choose a length of the trail system that appeals to them and which will become their responsibility to help maintain for a year. During that period your organization, with help and guidance from County Parks staff members, will provide maintenance, and clean up to your segment of trail. In addition, since your organization is providing the willingness to improve our trail, we can provide the tools you need to get the job done. Finally, during that same period two signs will be posted on your portion of the trail in order to recognize your organization's good stewardship and dedication to your community.
Don't have an organization? – No worries! Individuals, families and estates can all adopt trails.
For more information regarding adoption opportunities, please call (805) 654-3934
How to Adopt a Trail:
Give us a call at (805) 654-3934 and if you don't already have a section of trail picked-out we will help pair your organization with one. After choosing a section of trail, there will be some paperwork (only a little – we promise!) to make your adoption official. Please fill out the Adopt-A-Trail Application and Permit form and the Volunteer Agreement and Release of Liability form. After filling these out you have several methods of getting them to us:
By Mail:
11201-A1 Riverbank Dr.
Ventura, Ca 93004
Attention: Adopt-A-Trail Coordinator
OR
By Email:
countyparks@ventura.org
Once the application and permit are received, the Parks Manager or Adopt-A-Trail Coordinator will review them. After approval of the application and permit, the person who sent the request in will be contacted regarding their assigned section of the trail.
The Adopt-A-Trail program of the Ventura County Park has been developed to improve the condition and the monitoring of trails through community support and adoption. This community partnership has been designed to enhance the beauty, upkeep, and sense of ownership of the trail.
Before you decide to adopt a trail, please read all the information below.
What's Involved
Visit the trail on a regular basis.
Designate a contact person. The contact person is responsible for submitting all required documentation (forms and Activity log) to the County and serves as the liaison between the County and the volunteers they represent.
The trail should be kept clean of litter/garbage. Garbage may be left at the nearest County Park garbage can. If there isn't a nearby park or the garbage container is full, call the County Trails Coordinator to arrange pick‐up.
Report all Hazards – erosion, sink holes, missing or damaged signs, dangerous/fallen trees, damaged bridges and benches to the Adopt‐A‐ Trail Coordinator.
Report vandalism and any dumping activity.
Report any unusual or suspicious events on the trail.
Fill in the activity log after each visit. When the activity log is filled, forward to the County by fax (805)659-6981, or email the Adopt‐A‐Trail Coordinator.
Length of Adoption
The adoption is for a minimum of one year. Adoptions can be renewed after each period (subject to review and if no other group is interested in the section of trail), or the adopted trail can be changed, or the adoption can be terminated.
Equipment
Volunteers will be loaned equipment if needed.
Safety and Procedures
Safety first
Complete activity log during or after each visit
Fill out First Aid form when injured and contact the Trails Coordinator
Do not spend your own money anticipating reimbursement from the County without receiving written approval from the County
Safety Standards
Any Persons under the age of 18 must be accompanied by an adult.
Work in pairs or teams. This is safer than working alone, as it allows you to look out for each other.
Report all accidents and injuries immediately to the Trails Coordinator.
Have access to a phone. Carry a cell phone and know where you are along the trail and different access points that are available in case of emergency.
Never reach blindly to pick up an item. Use tongs or a stick to identify the item before picking it up.
Volunteers should always be wearing gloves.
Motorized vehicles are not allowed on trails.
Power tools such as chain saws, are not permitted to be used by Volunteers.
Trees, shrubs, and all plant material should not be cut or damaged.
Stay off the trail during storms and adverse weather conditions.
For environment and safety concerns, please stay out of creeks or rivers, even to retrieve litter.
Wear gloves, suitable footwear and dress appropriately for the weather.
Carry an adequate supply of water, especially during the summer months.
Other Information