Child/Adult Abuse & Neglect Hotline: 805-654-3200
In-Home Supportive Services – Recipients
IHSS recipients and providers may continue to conduct business with us by phone or in person. Drop boxes remain available outside both offices for you to drop off any documents at any time day or night.
Important phone numbers are listed below: 
IHSS Ventura Office: 805-654-3260
IHSS Simi Valley Office: 805-306-7935
IHSS Payroll Team: 805-477-5436 or HSA-IHSSPayroll@ventura.org
The State IHSS Service Desk for both IHSS recipients and providers continues to be available to assist during business hours at 866-376-7066.
Essential protective gear (gloves and masks) are available while supplies last for both IHSS recipients and providers. Please call 805-654-3416 or come in to the Public Authority office to request supplies.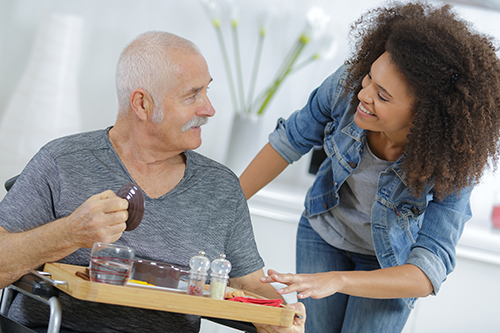 Get Help in Your Home with IHSS
The Human Services Agency helps seniors with low incomes and people with disabilities (including children) stay in their own homes instead of moving to residential care facilities. Through In-Home Supportive Services (IHSS), help is available for qualified applicants to pay for support services, including light domestic help, non-medical personal care, and assistance to and from medical appointments. Recipients must be citizens or legal residents and meet financial and disability requirements. 
View educational videos about the IHSS program in English, Spanish, Chinese, and Armenian.
Respectful & Professional Workplace
Having good communication is the first step to a positive working relationship between IHSS Recipient (employer) and Provider (employee). As the IHSS employer, it is your responsibility to keep the workplace safe. Your provider (employee) has the right to ask for assistance or report a complaint with the IHSS Public Authority if they believe that their IHSS employer has behaved in an unprofessional and inappropriate manner. IHSS Public Authority will make every effort to ensure that any complaint received will be thoroughly reviewed and appropriately addressed.
IHSS Program ~ Ventura
4245 Market Street, Suite 213
Ventura, CA 93003
805-654-3260
Monday–Friday, 8 a.m.–5 p.m.
IHSS Program ~ Simi Valley
2900 N. Madera Road, #110
Simi Valley, CA 93065
805-306-7935
Monday–Friday, 8 a.m.–5 p.m.