Child/Adult Abuse & Neglect Hotline: 805-654-3200
**Important Message** The California Department of Public Health issued a public health order requiring COVID-19 vaccinations for workers in adult and senior care facilities and those employed in in-home direct care settings. Additionally, IHSS providers who provide services to someone they don't live with or someone who is not a relative is required to receive a booster, if they are eligible for a booster. Any IHSS provider who is eligible to a booster but has not received one is required to test weekly for COVID. See the CDPH Health Order for details. 
Note: You may be exempted from the vaccine requirement if you have a Qualified Medical Reason or for your Religious Beliefs. To be exempted, you must provide your recipient a signed copy of the COVID-19 Vaccination Exemption Form requesting an exemption from the COVID-19 vaccine requirement and provide the reason.
Notice to In-Home Supportive Services Providers about COVID-19: IHSS recipients and providers may continue to conduct business with us by phone or in person. Drop boxes remain available outside both offices for you to drop off any documents at any time day or night. Important phone numbers are listed below:
Public Authority: 805-654-3416; Fax: 805-654-3499
IHSS Ventura Office: 805-654-3260
IHSS Simi Valley Office: 805-306-7935
IHSS Payroll Team: 805-477-5436 or HSA-IHSSPayroll@ventura.org
The State IHSS Service Desk for both IHSS recipients and providers continues to be available to assist during business hours at 866-376-7066.
Essential protective gear (gloves and masks) are available while supplies last for both IHSS recipients and providers. Please call 805-654-3416 or come in to the Public Authority office to request supplies.
IHSS Public Authority – Providers
Who We Are
In-Home Supportive Services (IHSS) recipients need quality care so that they can remain safe and comfortable in their homes. Some IHSS recipients choose a relative or friend to care for them: These care providers are called Non-Registry Providers. When others need help finding a quality care provider, we connect them with a Registry Provider. IHSS Public Authority provides registration and training services to all IHSS Providers, whether they are non-relatives, relatives, friends, or matched with an IHSS recipient.
Training Calendars
English Calendar
Spanish Calendar
Online Training Video Library
Public Authority currently provides online trainings, videos and additional resources for IHSS providers. In-person training is suspended during the COVID-19 pandemic.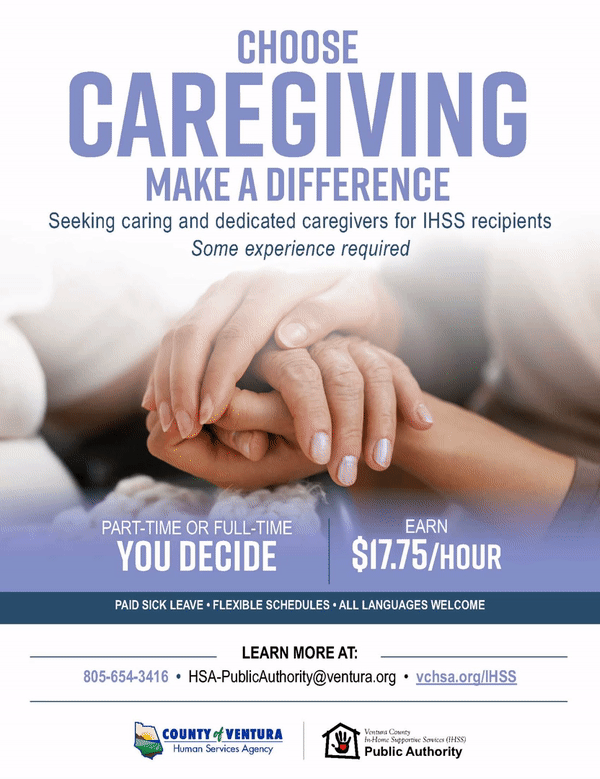 *Wage increase to $17.75 per hour is effective July 1, 2023
IHSS Public Authority also provides recruitment, screening, and referral services to IHSS Providers who want to be matched with an IHSS recipient. All services are provided at no cost to the IHSS recipient.

IHSS Providers are caring individuals who want to help IHSS recipients live high-quality lives in their own homes. IHSS Providers provide services such as the following:
Meal Preparation & Cleanup
Feeding
Bowel and Bladder Care
Bathing
Oral Hygiene
Grooming
Dressing
Laundry/Domestic Chores
Shopping for Food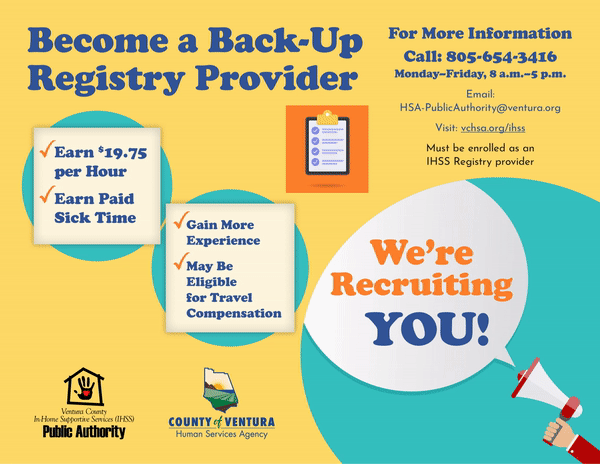 How to Become an IHSS Registry Provider 
To become an IHSS Public Authority Registry Provider and be referred to IHSS recipients, complete the following steps: 
Call 805-654-3416 and request a Registry application packet to be mailed to you. Review, complete, sign, and return all the documents in the packet including the IHSS Public Authority Registry Application and attend one of our mandatory Information & Orientation Sessions (en español) in Ventura or Simi Valley. Completed Registry application packets will be collected at these sessions.
Participate in a hiring interview. You will be scheduled for this phone interview once you submit a complete registry application packet.
Be fingerprinted and go through a criminal background check by the California Department of Justice. Paperwork required for fingerprinting and locations where it can be completed are provided once Step 3 is completed.
Once all steps and have been completed, your name will be placed on a Registry that will be used to refer IHSS Providers to IHSS recipients who want to hire a home care provider.
IHSS Providers' Pay & Benefits
The IHSS Public Authority administers a contract with the Service Employees International Union Local 2015 (SEIU-2015) regarding hourly wages, increases, and benefits for providers. All care providers are paid $17.75 per hour, effective July 1, 2023, and may be eligible to claim travel time, overtime, and sick time. For more information view the IHSS Recipient/Consumer Education videos. IHSS Public Authority providers needing more information may call 805-654-3416.
SEIU Local 2015 Membership Information
As part of being an IHSS provider, you are automatically represented by SEIU Local 2015 for wages, benefits and certain terms of employment. You are also eligible to join the SEIU Local 2015 as a union member. For information regarding SEIU 2015 membership click here or you can call the Member Action Center at 855-810-2015.

Sick Time Pay
IHSS Providers may qualify to take sick time or claim sick time after working 200 hours. For the latest information on claiming sick leave see Provider Paid Sick Leave Request.
Note: The State COVID-19 Sick Leave that has been available to IHSS providers ended as of September 30, 2021. Providers will need to use their regular sick leave benefits, if they still have a balance of hours left, for any sick-related purposes.
Direct Deposit
You can have your provider paycheck deposited into a checking or savings account using direct deposit.  You can apply for direct deposit by mail using the SOC 829 form, or apply online if you are registered on the Electronic Services Portal IHSS website. For direct deposit information see Direct Deposit flyer, English and Spanish.
Online Electronic Timesheet Service (ETS)
Active IHSS recipients and providers have the option to enroll in the Electronic Timesheet Service (ETS).  This option allows a provider to submit their In-Home Support Services (IHSS)/Waiver Personal Care Services (WPCS) timesheet online using a tablet, smartphone, or computer instead of receiving and submitting paper time sheets. This service also allows a provider's time sheet to be reviewed and approved by their IHSS recipient using a tablet, smartphone, or computer.
Benefits of completing and submitting timesheet online:

No longer required to mail paper time sheets
Check time sheet and payment status online
Check timesheet history (last three months) online
Request supplemental timesheets online
Bonus – ETS validates time sheets before submission to avoid errors and potential violations.
Requirements
To enroll and submit time sheets electronically, both the active IHSS/WPCS provider and the recipient must have the following:
Provider Number
A valid email address
Internet access
Access to a smartphone, tablet, or computer
To sign-up for ETS visit www.etimesheets.ihss.ca.gov
For more information:
Contact the IHSS Service Desk at 866-376-7066 (option 4) from 8 a.m. to 5 p.m.,  Monday – Friday (except major holidays)

Telephonic Timesheets (TTS) for IHSS Providers and Recipients
Active IHSS providers and recipients who do not have access to internet service, a computer or smartphone can submit and approve timesheets using a landline or cell phone.
Requirements
To enroll and submit time sheets telephonically:
Contact (833) DIAL EVV or 833-342-5388 to register and press 3 for registration. You will need your 6-digit registration code, your 9-digit provider number and your date of birth or
Call 805-654-3416 for assistance or questions on TTS
Further information and recorded webcasts on TTS is also available www.cdss.ca.gov/inforesources/esphelp
Entering your time on TTS can take more time than using the online portal. It is suggested that providers enter time every day instead of waiting until the end of the pay period.
IHSS Advance Pay Frequently Asked Questions
IHSS Service Desk
Providers and Recipients may call IHSS Service Desk at 866-376-7066 Monday through Friday, 8 a.m. – 5 p.m. for the following:
Information about Electronic Visit Verification
Registering or using the Electronic Services Portal or TTS
Enrolling for direct deposit
Assistance with forgotten ESP usernames
Entering/resetting a TTS passcode
Assisting users with resetting their ESP passcode
Updating an email address
Updating communication preference (email or phone)
Volunteer Opportunity
To further improve and strengthen its program, the IHSS Public Authority meets regularly with the IHSS Advisory Committee.  As a committee member you will collaborate with the County of Ventura Human Services Agency (HSA) regarding administration of the IHSS Program and provide first-hand experience and expertise in helping to reinforce the effectiveness of the IHSS Program and the Public Authority. If you are interested in learning more about the IHSS Advisory Committee please call 805-654-5521.
Respectful & Professional Workplace
IHSS Public Authority understands that working for an elderly and/or disabled employer may be a new and challenging experience. Often it can be challenging to distinguish the difference between IHSS employers' behaviors that may be due to cognitive impairment, unprofessionalism or inappropriate conduct. Remember, IHSS providers have the right to ask for assistance or report a complaint with the IHSS Public Authority if you believe your IHSS employer has behaved in an unprofessional or inappropriate manner. If you cannot resolve your problem with your IHSS employer, you may report your concern and/or complaint to IHSS Public Authority. To begin this process, contact the IHSS Public Authority by calling 805-654-3416. IHSS Public Authority will make every effort to ensure that any complaint received will be thoroughly reviewed and appropriately addressed.