Community members are encouraged to share input before the Board of Supervisors public hearing on December 7 at 6pm. The Board will consider community input until the state deadline of December 15.
Public comments on any of the draft maps can be made at the Board hearing or may be submitted by calling 805-654-2998, by email at redistricting@ventura.org, by mail at Redistricting, 800 S. Victoria Ave. Ventura, CA 93009 or online at ventura.org/redistricting/redistricting-contact-form/. Board of Supervisors meeting agendas and live broadcasts can be viewed at the following link: https://ventura.org/board-of-supervisors/agendas-documents-and-broadcasts/.
---
How Can Members of The Public Get Involved With Redistricting?
Help Identify Communities of Interest that Should be Included within your District to Ensure Fair Representation.
Members of the public are encouraged to provide input to the Board of Supervisors regarding their communities of interest and their thoughts and recommendations for new district boundaries. In addition, members of the public may develop and submit their own redrawn district maps for consideration by Board. The Board encourages members of the public to consider legal requirements and traditional districting principles when providing input or submitting their own redrawn district plans for consideration. (see the References Page for more information)
How May A Comment Be Submitted?
Share your ideas to Ensure that Supervisorial Districts are Balanced
How May A Community Input Form Be Submitted?
Community Input forms may be submitted via e-mail, in person, at a County library (including Oxnard Libraries and the Blanchard Community Library in Santa Paula) or at a public hearing. The links below take you to submittal procedures, as well as a copy of the Community Input form.
How May A Redistricting Plan Be Developed And Submitted?
DistrictR is a community mapping tool that can be used to submit a Community of Interest map and to submit a district plan once the 2020 Census Bureau has released the 2020 Census data.  Click here to use the Community Mapping Tool and submit your map.
Video instructions (coming soon)
---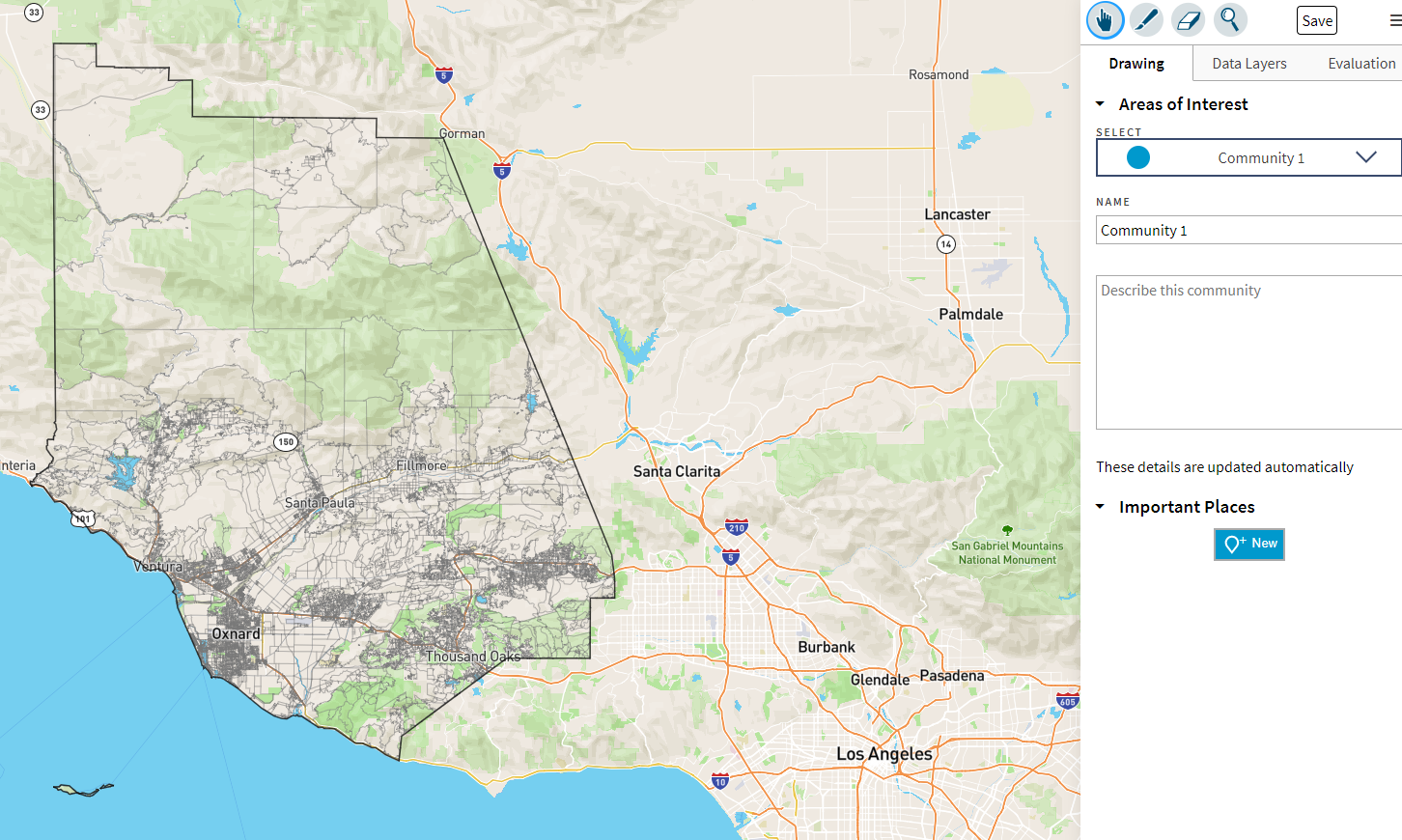 ---
What if I was unable to attend one of the Community Meetings?
The County held five community meetings to explain the supervisorial redistricting process  and to receive input from the community. If you were unable to attend a community meeting, you can view the meeting recordings below.
Tuesday, August 31: 6:00 pm – 8:00 pm
Thursday, September 2: 6:00 pm – 8:00 pm (In Spanish, with English interpretation)
Thursday, September 9: 6:00 pm – 8:00 pm
Saturday, September 11: 10:00 am – 12:00 pm
Monday, September 13: 6:00 pm – 8:00 pm (American Sign Language interpretation)
County staff and the consultants presented the same information at all five meetings. Click here to view the Meeting Presentation
View a summary of comments received at the community meetings here.
In addition to the community meetings, the Board of Supervisors will hold several public hearings as outlined below.
What is the Schedule for Public Hearings?
The Board of Supervisors is holding hearings to receive public input on where district lines should be drawn. The hearing schedule is as follows:
If additional public hearings before the Board of Supervisors are needed, the dates and times of those hearings will be posted here.
To view agendas, live feed and past recordings or minutes of the Board of Supervisors hearings click here.