Maps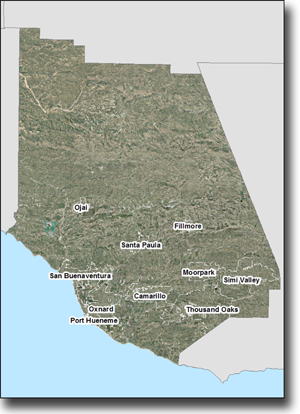 County View
County View is a browser-based map viewer application that provides access to numerous GIS tools for searching, displaying, and analyzing the County's GIS layers.
>> Click here to bring up County View <<

Downloadable Maps
We provide a variety of maps available for download. Click here to see the maps.
Ventura County Sheriff's Crime Map
Search for incidents in your area. Click here to view the map.
Parcel Maps
You can search for an Assessor's map by the Assessor's Parcel number (APN) or by the map book number. See your Tax bill for your APN number or go here to get your APN number from the Tax Collector's web site. Entering a book number will show you a list of all the maps in that book.
Related Links
NOTE: As a convenience to our visitors, this page may contain links to external websites that are not managed or controlled by the County of Ventura.