Child/Adult Abuse & Neglect Hotline: 805-654-3200
The Veteran Services office helps Veterans and their families gain access to the benefits they have earned, such as financial assistance and medical treatment. Veteran Claims Officers provide information, referrals, claims preparation and submission, and follow-up service to ensure Veterans, their dependents, and survivors receive the benefits to which they are entitled.
Learn more about the office here: Veteran Services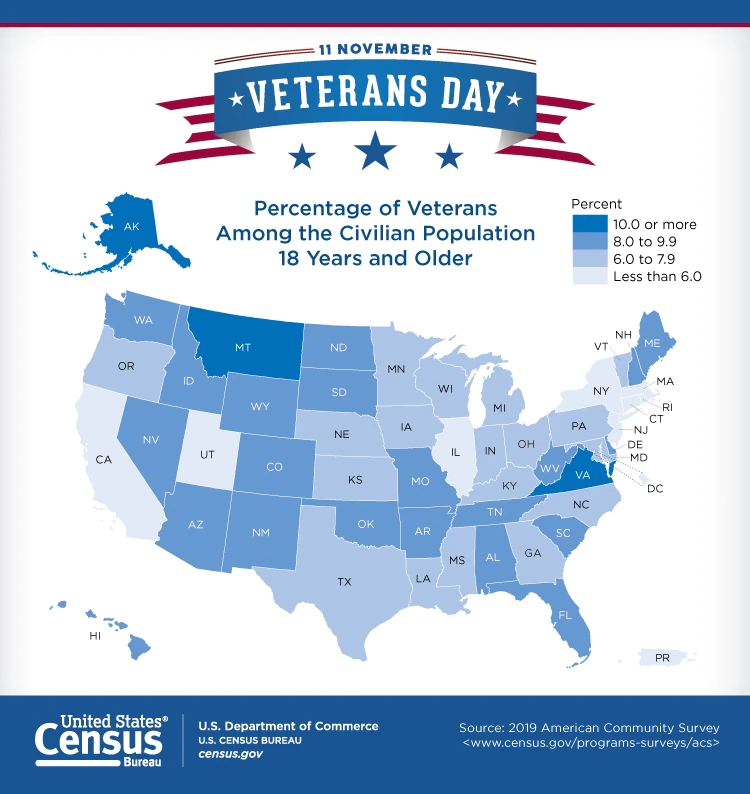 Data source: U.S. Census 2021 American Community Survey
Veteran Services
The Veteran Services Office can provide information and assistance with any claim to the USDVA. Home calls or visits to hospitals, nursing homes, and senior centers may be made to assist elderly persons or those with disabilities. Claim services for Veterans may include compensation for service connected disabilities, information and application to receive treatment at a USDVA hospital or clinic, and/or information on educational benefits or home loans.
College Fee Waiver for Veteran Dependents
The College Fee Waiver for Veteran Dependents benefit waives mandatory system-wide tuition and fees at any State of California, Community College, California State University, or University of California campus. Dependents of Veterans may be eligible if they meet certain requirements.
Veteran Benefits Verification
The Veterans' Benefits Verification and Referral form (CW5) is used by County staff to verify the status of the benefits received, to refer applicants or recipients to the Veteran Services Offices and to obtain new veteran benefits if eligible.