Harbor Fun!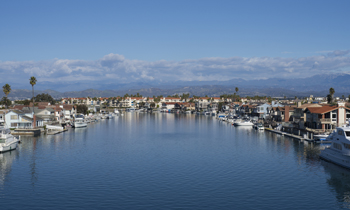 Channel Islands Harbor
Neighbor to the scenic Channel Islands, Channel Islands Harbor is a working harbor that offers fun-filled water activities for the whole family. About an hour's drive from Los Angeles, the Harbor features several beach-lined parks and coastline for picnics and surfing, as well as nearby biking and walking paths. While at the Harbor, visit our many shops and dine at one of several restaurants with menus ranging from deli sandwiches to Brazilian cuisine. Be sure to check out the Ventura County Maritime Museum with its ever-changing exhibitions, world-class maritime art, and ship models.
Port of Hueneme
The Port of Hueneme is the only deep water harbor between Los Angeles and the San Francisco Bay area and is the U.S. Port of Entry for California's central coast region. It serves International businesses and ocean carriers from the Pacific Rim and Europe. The Port of Hueneme ranks among the top seaports in California for general cargo throughput.
Ventura Harbor
Set your sail to the most amazing point on the California's Central Coast - Ventura Harbor. The official gateway to Channel Islands National Park and Channel Islands National Park Visitor Center, as well as Ventura's premier oceanfront attraction Ventura Harbor Village - Shopping, Dining and Sea Side Fun!
NOTE: As a convenience to our visitors, this page may contain links to external websites that are not managed or controlled by the County of Ventura.