Ojai Valley Trail, Ventura/Ojai
The Ojai Valley Trail is a 9 mile trail that parallels Highway 33 from Foster Park on the outskirts of West Ventura, to Fox Street in Ojai. One side of the trail is paved for bicyclists, walkers, joggers, and people exercising their pets. Post-and-rail wood fence separates the paved path from a dirt bridle path for horseback riders. Sections wind through wooded areas and past riverbeds.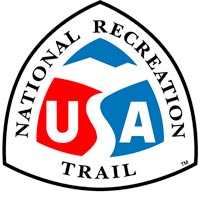 This trail has earned National Recreation Trails designation as "Ventura River Parkway Trail" that incorporates two existing trails the Ventura River Trail and the Ojai Valley Trail and connects to the Omer Rains Coastal Trail and the Juan Bautista de Anza National Historic Trail that travel north along the coastline through Emma Wood State Beach. Visit the NRT website for more information at http://www.americantrails.org/NRTDatabase/trailDetail.php?recordID=3866.
.
Location: Parallels Hwy 33 from West Ventura through Ojai

DAY USE
Hours
7:00 am - Sunset
Trailhead
Inside Foster Park in Ventura
Trail Fees
None
Trail Maintenance
Ventura County Parks Department
Length
9 Miles
Users
Bicyclists, walkers, joggers, equestrian
Prohibited
Motorized vehicles (gas or electric)
Dogs/Pets
Must be on leash (maximum length of 6 feet)


View Larger Map
NOTE: As a convenience to our visitors, this page may contain links to external websites that are not managed or controlled by the County of Ventura.