Senior Summit 2017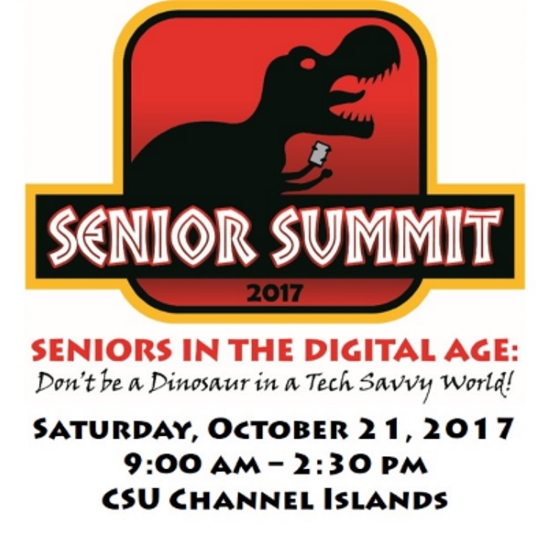 2017 Ventura County Senior Summit "Seniors in the Digital Age: Don't be a Dinosaur in a Tech Savvy World" will educate you on digital technology as a useful tool to connect socially, maintain independence, and access services to address your needs, including healthcare, transportation, and even food delivery. The Summit will also provide how-to demonstrations if you are reluctant to delve into the digital age.
The Ventura County Senior Summit brings together local experts to share their knowledge, invite meaningful discussion with seniors, and provide input for the County's goal-setting and Strategic Plan. The Summit includes a box lunch and is FREE to all participants.
*Be sure to bring your smart device with you! Don't have a smart device? Don't worry! We'll have some available for you to discover the possibilities.
• Registration is FREE for workshops and activities
• Free continental breakfast and brown bag lunch included
• Vendors and prize giveaways
• Check for available free transportation to and from the event
~~~~~~~~~~
CANNED FOOD DRIVE - And Enter a Grand Prize Drawing!
Over 100,000 residents in Ventura County are food insecure with a growing number of senior citizens needing assistance. Each canned food item you donate at the Senior Summit will enter you into a grand prize drawing. Donated food will benefit Food Share, Manna, and the Ventura County Area Agency on Aging Senior Food Pantry.
~~~~~~~~~~
Senior Summit Agenda
8:30

- Check-In & Continental Breakfast

9:00

- Welcome by Supervisor Linda Parks, Ventura County Board of Supervisors
Dr. Erika D. Beck, President of California State University Channel Islands

9:15

- "The Silver Tsunami Catches the Wave of the Future" with Mike Pettit, Ventura County Chief Information Officer
Morning Sessions
| | |
| --- | --- |
| 10:00-10:45 | - Workshops-Session A |
| 10:55-11:40 | - Workshops-Session B |
Lunch & Keynote Presentation
| | |
| --- | --- |
| 12:00 | - Complimentary Brown Bag Lunch |
| 12:30 | - Presentation of the Mel Silberberg Eldest Active Senior Awards |
| 12:45 | - Hank Lacayo Senior Advocacy Award |
| 1:00-1:30 | - Keynote Presentation: "Medicine in the Age of Artificial Intelligence" Dr. Stan C. Patterson, Chief Medical Information Officer, Ventura County Health Care Agency |
Afternoon Session
| | |
| --- | --- |
| 1:45-2:30 | - Workshops-Session C |
~~~~~~~~~~
WORKSHOPS
How-To Demonstrations

: Get hands-on experience and work with experts from Best Buy's Geek Squad to understand the tools on your device. *Be sure to bring your device with you.



Technology in Healthcare

: Learn about the latest in healthcare related technology both in the hospital and available commercially that can help with aging.



Technology for Independent Living

: Make life easier by using your computer or hand-held device to get a ride, have food/groceries delivered, bank, shop and many other day-to-day activities.



Technology in the Home

: Technology in your home can help you get around easier, stay safer, and keep you in your home longer. Gain peace of mind by learning what is available in new technology to improve your home setting.



Technology to Stay in Touch

: Facebook! Instagram! Twitter! It's not just emailing and phone calls anymore. Get comfortable using the latest social media tools to stay connected to family and friends.



Technology for Caregivers

: Providing care to a loved one can be difficult to maneuver. Learn about innovative technology can help alleviate your stress and help maintain balance.



Technology to Strengthen Brain Function

: Studies show improving brain function can assist with memory problems. Learn about apps on your hand held device or games on your computer that can help strengthen your brain function while having a little fun!



Being Smart with Smart Technology

: Stay one step ahead of hackers, scammers and thieves by knowing how to protect your identity and be aware of internet scams.



APPS that Can Change Your Life

: From checking your heart rate to getting reminders for medication, get up to speed with innovative apps that can improve your life.


Registration for the Senior Summit 2017 is Now Closed

MORE SENIOR SUMMIT ACTIVITIES…
Be sure to bring your hand-held device with you!! - Experts will be available to answer questions and increase your tech knowledge.
Don't have a device? - We'll have some on-hand for you to discover the possibilities.
Get a free flu shot! - Visit the Health Care Agency mobile unit.
Visit the resource tables! - Find out about services available in your community.
Enter your birthday when you register. - Be entered for consideration for the Mel Silberberg Eldest Active Senior Award!
~~~~~~~~~~
CLICK HERE FOR SENIOR SUMMIT KEYNOTE SPEAKERS AND PRESENTERS
~~~~~~~~~~
THANK YOU TO OUR SENIOR SUMMIT SPONSORS!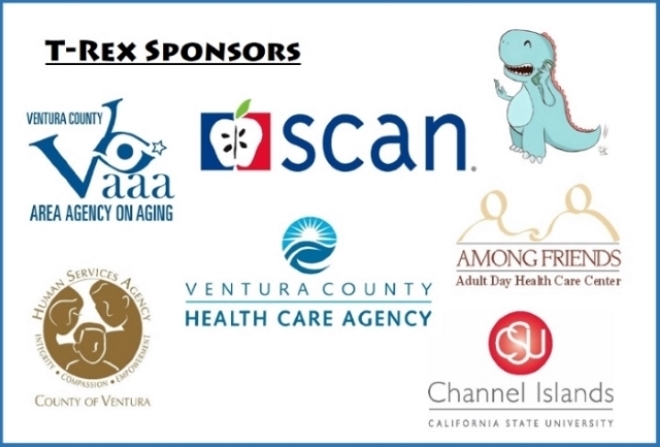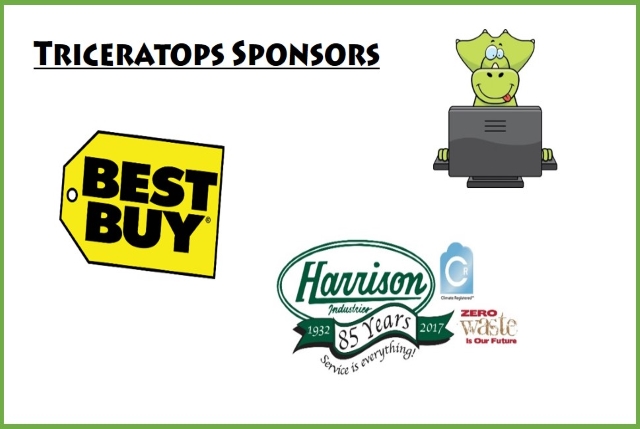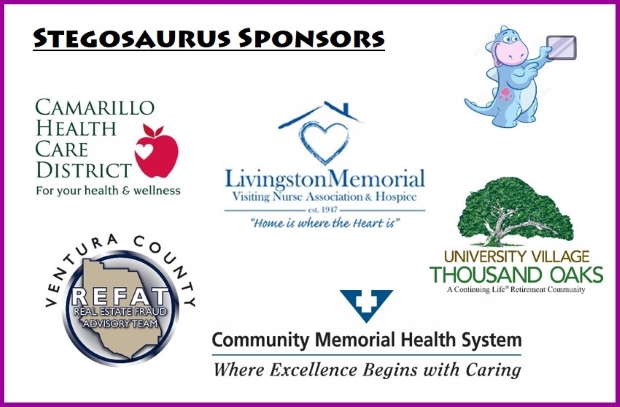 ~~~~~~~~~~
If you would like to be a Senior Summit sponsor, please contact Vanise Terry at (805) 214-2510 or email: vanise.terry@ventura.org
NOTE: As a convenience to our visitors, this page may contain links to external websites that are not managed or controlled by the County of Ventura.