GSA Special Project Newsletter Article
GSA Special Projects
Special projects conducted include:
Plant reduction
The Landscape Department has removed approximately ½ of the prevailing border shrubs (Xylosmas) throughout the property, along with various plants on the "Victoria Avenue Hill" side of the property. This action reduced the habitat for rodents, reduced the amount of insect control agents needed because of a reduction in their food source and saved in labor expended on pruning and irrigation.
Use of Low Irrigation Plants/Groundcover
The Landscape Department continues to utilize plantings requiring less water along with natural ground cover (tree bark and red rock). These areas allow for reduction in the use of water, pesticides and herbicides along with eliminating the need for more labor intensive mowing, (placing these plantings in narrow grass areas reduces the need for hand-mowing).
| | |
| --- | --- |
| Access Ramp, East Side | Planter Adjacent to PTDF |
Additional plans include the use of Native California Plants. Native plants will provide us with a hearty variety that will do well with limited irrigation and local environmental conditions, further reducing the need for water, fertilizer and control management.
Among species identified for inclusion are:
| | | |
| --- | --- | --- |
| COYOTE BUSH | ELDERBERRY BUSH | SAGE |
| LEMONADE BERRY | CALIFORNIA RYE GRASS | CEANOTHIS |
Evapotranspiration
Evapotranspiration is the process by which trees and plants draw water from the ground and release the moisture into the atmosphere via their leaves. This movement of water is necessary for plant health and is the vehicle for plant metabolism. This water evaporates, drawing heat and cooling the air. Evapotranspiration is often referred to as "ET", ET information is retrieved (Via the Internet) from local CIMIS weather stations that measures local weather conditions. The amount of moisture loss is measured in acre inches per day. Universities have developed crop coefficients for landscape plants and numerous agricultural crops. ET is multiplied by the crop coefficient to determine crop specific ET. Evapotranspiration is measured using a variety of information such as: temperature, day length, solar energy, humidity and wind velocity. This information is important to landscaping and is used as a tool to assure that plants, trees and turf are getting the right amount of water at the right time. Our goal is too give the plants what they need –not too much and not too little. It takes the guess work out of irrigation scheduling.
In managing the existing landscape and planning new projects, this information is one of the tools utilized by the GSA Landscape Department. We have found that by using ET data to make educated decisions and adjustments in our irrigation scheduling that we are observing healthier plants that can better resist insects and diseases.
Tree Attrition Plan
An evaluation of every tree on the Government Center Campus has been completed, identifying sick, aged trees along with those that present safety issues. Removal and restoration of identified trees is in progress, along with the plan to install younger healthier native trees to replace those being removed.
2220 Gonzales – Rubber Mulch/Tree Replacement
Removal of several Tipu trees that had chronic pest problems created an opportunity to install virtually pest free African Sumac trees, thereby reducing the need for pesticide applications. The rubber mulch that was installed in all the planting areas served to suppress weed growth and further reduce the need for herbicide applications, while beautifying the grounds and conserving water.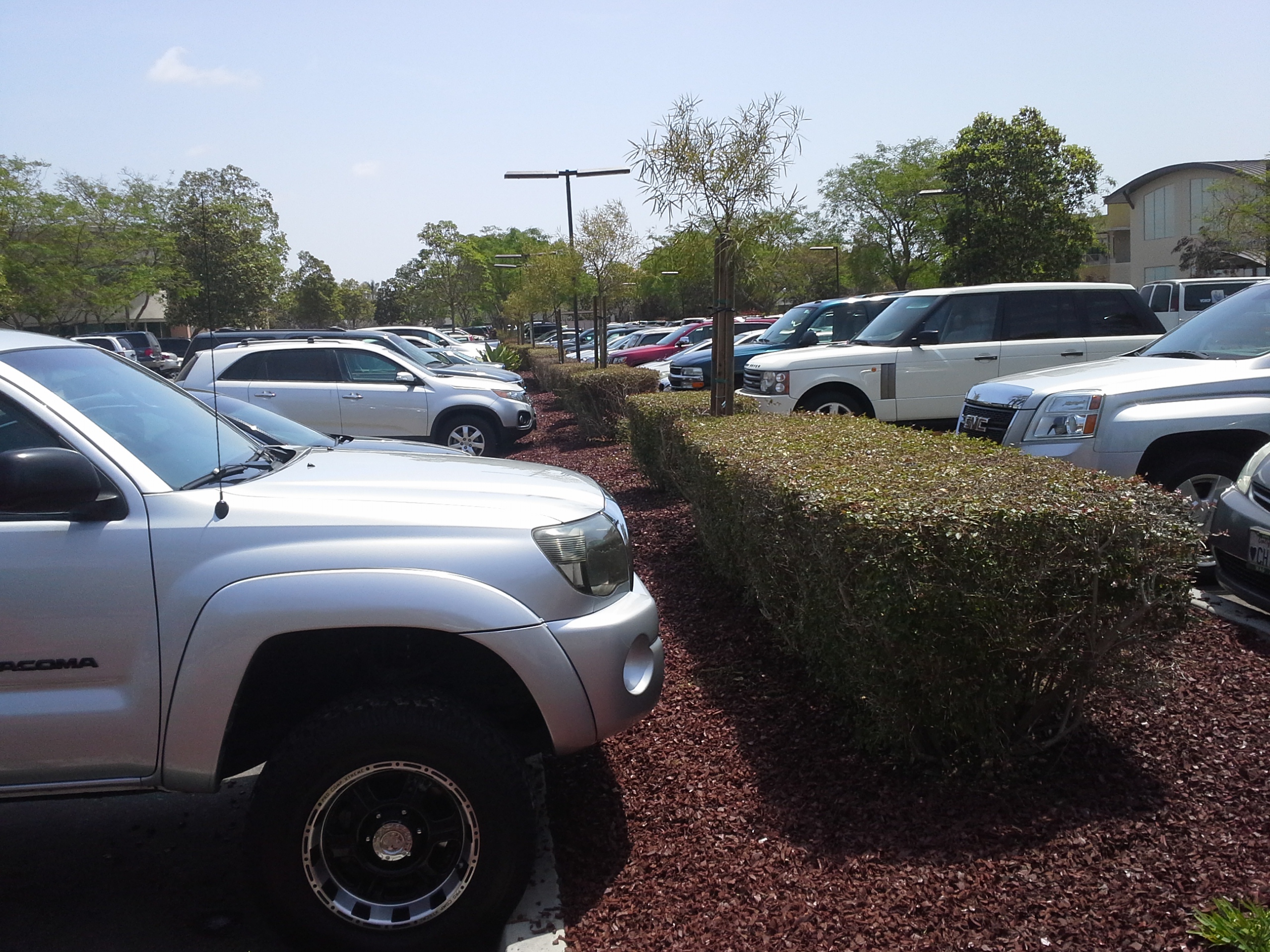 350 Willis – Xeriscape
At the County Probation Work Furlough Facility, A sparse, weedy lawn that attracted pests and required pesticide applications was converted to a raised Xeriscape Garden of drought tolerant plants and succulents with virtually no pest problems and requiring little water or fertilizer. In addition, a rock mulch covering the ground suppressed weed growth and reduced herbicide applications.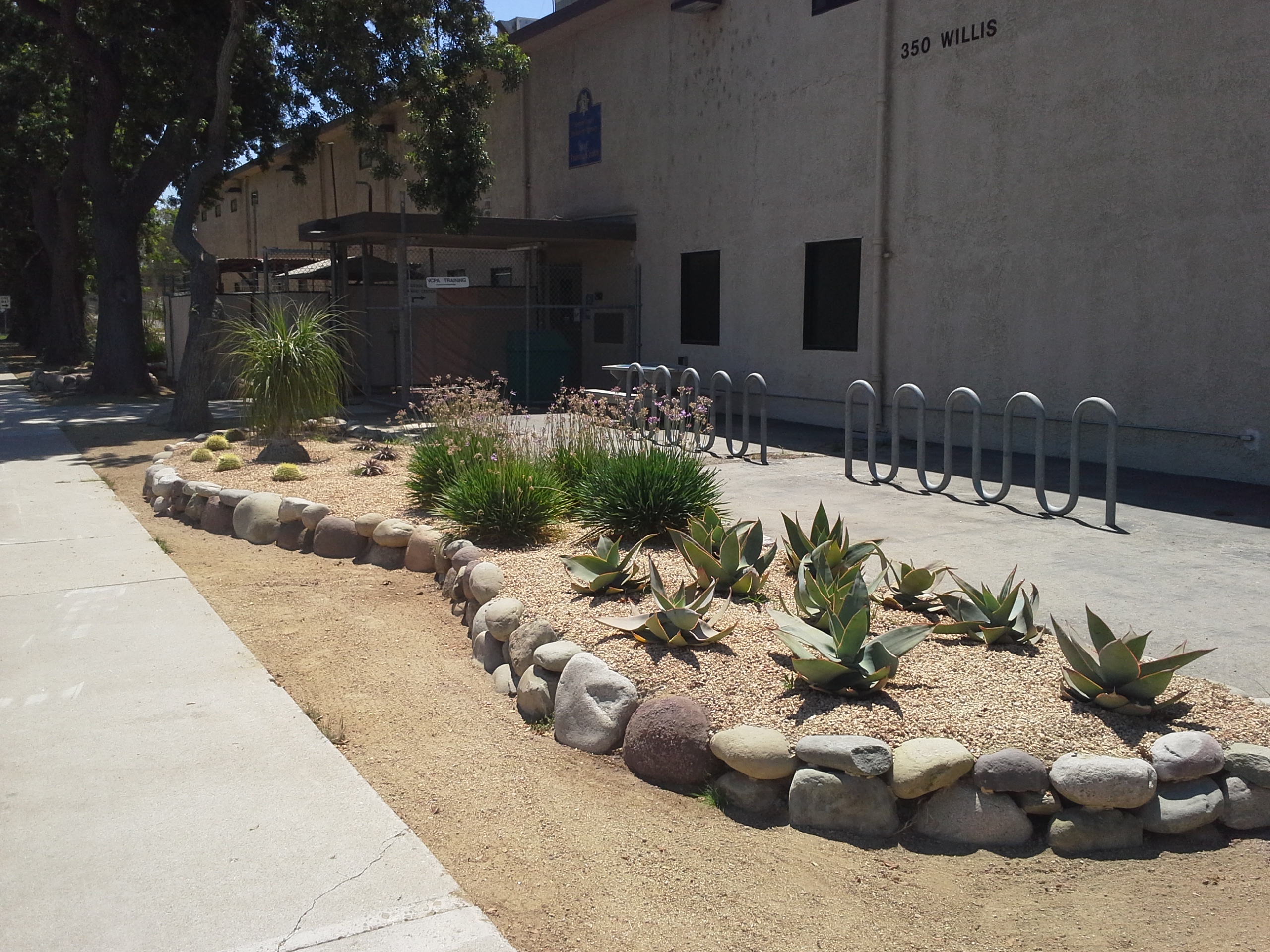 4651 Telephone Rd. – Mulch/Replanting
The Telephone Road Facility was renovated recently to incorporate more disease resistant plantings such as Indian Hawthorn and Fortnight Lilies that have the advantage of being drought tolerant as well. Sprinkler nozzles were exchanged to provide more efficient applications of water, thus optimizing the conditions for plant health and reducing or eliminating the need for pesticides. Jute mesh was used to stabilize slopes, and mulch was applied to suppress weed growth and reduce herbicide use.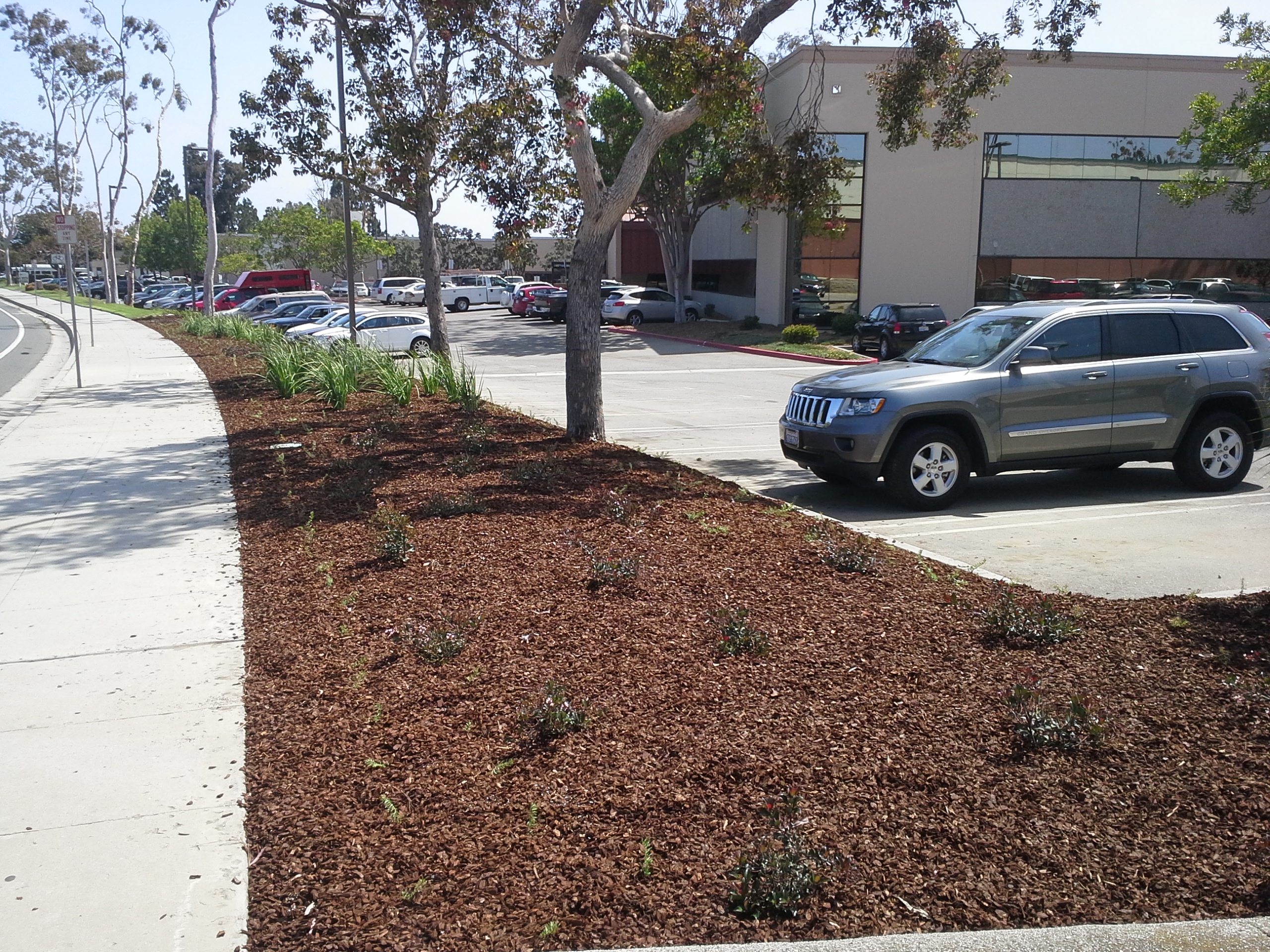 The Government Center - Veterans Memorial
At the Government Center a drought tolerant landscape was installed dedicated to our Veterans, which again incorporated a rock mulch to suppress weed growth and reduce herbicide applications. The landscape also incorporate disease resistant plants and succulents that tend to be pest free and require little fertilization.