Veteran Services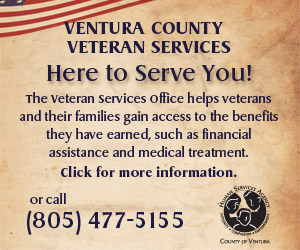 Veteran Services
The Human Services Agency recognizes the courageous service of Ventura County veterans and works hard to help them, their dependents and survivors access benefits from federal, state and local agencies that they have earned. The Veteran Services Office helps these men and women, as well as their families, gain access to financial assistance and medical treatment. Services include assistance with:
Claims to the VA for service-connected compensation
Pension for wartime veterans with non-service-connected disabilities
California Tuition Fee Waiver Program
Memorial benefits
VA life insurance
Medical referrals and information
Click here to listen to radio spot.
Call (805) 477-5155 for more information or to schedule an appointment at our main office in Ventura or at one of our other locations.
Main Office:
Monday - Friday - 855 Partridge Drive, Ventura
In addition to our Ventura office, Veteran Services provides assistance to veterans and their dependents in the following cities: Camarillo, Moorpark, Thousand Oaks, Simi Valley, Santa Paula, and Oxnard.
Client Satisfaction Survey
To complete our survey, click here.
Visit your local Vet Center at:
790 E. Santa Clara Street, Suite #100
Ventura, CA 93001
(805) 585-1860
VA facility providing counseling for PTSD, Military Sexual Trauma, TBI, and bereavement
For military personnel, veterans, and their families in crisis call:
1 (800) 273-8255 (then press 1).
Forms & Documents
Useful Links
NOTE: As a convenience to our visitors, this page may contain links to external websites that are not managed or controlled by the County of Ventura.