Homelessness Prevention Assistance
Homelessness Prevention & Rapid Re-Housing Program (HPRP)
This program has been expanded to assist victims of the Thomas Fire. Learn more.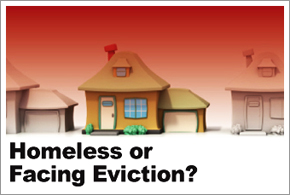 The Ventura County Homeless Prevention & Rapid Re-Housing Program (HPRP) and the Federal Emergency Solutions Grant Program (ESG) make funds available to local residents who are currently homeless or facing homelessness from rental housing within 21 days. Assistance may include: rental deposits; short-term rental payments; credit counseling; utility deposits; utility payments; and/or moving and storage costs. Case managers work closely with clients to develop and implement a service plan to ensure they access other public benefits. Through HPRP and ESG, clients are stabilized in housing and assisted comprehensively to help ensure they do not face homelessness again.
Eligibility
Eligibility
Five (5) Basic Eligibility Criteria
(additional criteria may apply)
Seven (7) Basic Required Forms of Documentation
(additional requirements may apply)

1. Homeless or facing homelessness from rental housing in 21 days

1. Certification of Homelessness document*

2. Household income limits are determined by family size (example: income limit for family of 3 is $45,000; see below for income chart)

2. Copy of bank statement and listing of monthly budget

3. No other housing options or financial resources that would allow you to find or keep housing

3. Proof of income/benefits and completed budget worksheet

4. Ventura County resident and U.S. citizen or qualified resident alien

4. Document stating current address (utility bill, etc.)
5. Photo ID (for all adults in household)
6. Social Security Card (for all household members)

5. Financial ability to maintain housing after this rental assistance is received

7. Assessment with a social worker and participation in a six month service plan
*Applicants will receive and complete this document in person with their HPRP case manager.
Income Chart
Income Chart
Family
Size

Household
Income
Limit

Family
Size
Household
Income
Limit
1
$35,000
5
$53,950
2
$40,000
6
$57,950
3
$45,000
7
$61,950
4
$49,950
8
$65,950
These figures are current as of April 14, 2017
How to Apply
1) Screen yourself to determine whether you meet basic eligibility requirements.
2) Start the application process by calling (805) 385-8585
between the hours of 8 a.m. and 4 p.m., Monday through Friday, except holidays, to speak with a program representative. After-hours callers will receive an automated message in English and Spanish.
3) You will receive a screening phone call describing the program benefits and requirements. If you appear likely to be eligible, a face to face interview with a social worker will be scheduled to begin the application process.
4) Please note that all applicants may not qualify. All funds approved are sent by check directly to the vendor.

Resources
NOTE: As a convenience to our visitors, this page may contain links to external websites that are not managed or controlled by the County of Ventura.