Awards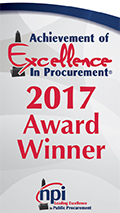 ---
Ventura County Procurement Services earned the
Excellence in Procurement Award
for 2000, 2001, 2002, 2003, 2004, 2005, 2006, 2007, 2008, 2009, 2010, 2011, 2012, 2013, 2014, 2015, 2016 and 2017
In 1995, the National Purchasing Institute (NPI) established a program designed to recognize the achievement of organizational excellence in public procurement.
For the sixteenth year in a row, the County of Ventura, (GSA) Procurement Services Division has been selected to receive the Excellence in Procurement Award jointly presented by the National Purchasing Institute, Inc.; the California Association of Public Purchasing Officers; and the Institute for Supply Management, Inc (ISM). This award is based upon an extensive rating system and is presented only to those organizations that demonstrate excellence in procurement practices. Ventura County received high marks for its continuous improvement program, automation, utilization of electronic commerce, professional certification, and environmental purchasing policy.
NOTE: As a convenience to our visitors, this page may contain links to external websites that are not managed or controlled by the County of Ventura.