Department of Airports
Oxnard Airport
The Oxnard Airport is located on the coastal edge of the 200 square mile Oxnard Plain, a mile and a half from the coastline on the southwest corporate limits of the City of Oxnard. The airport is classified as a non-hub commercial service airport.
The airport is home for one full service fixed base operator providing services such as aircraft charters, aircraft maintenance, and pilot supplies. The airport also hosts several car rental agencies, and shuttle van service to Los Angeles International Airport.
The airport is conveniently located a mile and a half west of Oxnard's business district and within a three minute drive from the beach. There are several historic attractions within a twenty minute drive from the airport, including the Henry T. Oxnard Historical District, Oxnard's Heritage Square, Channel Islands National Park, the San Buena- Ventura Mission, Olivas Adobe, and the Ventura Pier. There are three shopping malls also located within a twenty minute drive from the airport, along with three golf courses.
The Department of Airports is currently working on a series of projects aimed at maintaining existing facilities and services. Through these projects, the Oxnard Airport will continue to be a valuable asset to the County of Ventura and the surrounding community.
---
---
---
---
Department of Airports
---
~~~~
The County of Ventura Department of Airports is looking to re-establish an air route out of Oxnard to San Francisco with connections to domestic and international destinations, and is conducting a short survey of the business community and residents.
If you are with a business we would like to get some information about your company. If you are a resident you can say so where it asks for a Business Name. Please help our community re-establish airline service by taking a few minutes to complete this short survey.

~~~~
---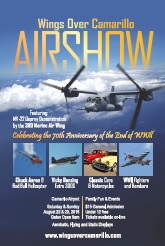 Click here for more information on the Camarillo Airport Electronic Display Sign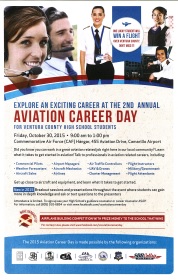 Important Documents

---
---
Camarillo Airport
Welcome to the Camarillo Airport


The Camarillo Airport (CMA), as it is known today, was the former Oxnard Air Force Base. The base was established in the early 1950's for coastal defense and a variety of military aircraft operated here until 1969 when the base was deactivated. After a lengthy surplus process, CMA officially opened as a General Aviation airport in 1976 and occupies approximately 650 acres of land. CMA is owned and operated by the County of Ventura in partnership with the City of Camarillo through a Joint Powers Authority (JPA).


Today CMA is the proud home of over 600 general aviation aircraft and there are between 150,000 and 200,000 take offs and landings per year. The airport community includes several aviation businesses providing flight instruction (fixed wing and helicopter), aircraft maintenance, and aircraft charter and storage. CMA is home to the Experimental Aircraft Association (EAA), the Commemorative Air Force (CAF), the Ventura County 99's, and an Ultralight Airpark. There is also an Airport Business Park that includes several County agencies, a variety of businesses, and several education institutions.


CMA provides nearly $200 Million in positive economic benefit to the local community and supports over 1,000 jobs. The Federal Aviation Administration recently categorized CMA as a National Asset. It certainly is an asset to our local community and the County of Ventura.


---
---
---
Subcategories