Ventura County Animal Services Department Achieves No-Kill Shelter Status for 2014
Two years after being directed by the Board to work towards becoming a no-kill shelter, Animal Services achieved that goal with a live release rate of 91.2%
Since 2012, the department made tremendous strides in both its operational practices and in improving its relationships with community organizations, rescue partners, volunteers and with public it serves. The attainment of the no-kill designation with a documented 91.2% live release rate in a span of two years is a remarkable achievement, especially in view of the fact that county shelters are "open admission" and do not turn away any animal. The efforts of our hard-working and dedicated shelter staff are magnified and enhanced by the efforts of a caring and talented cadre of volunteers. Animal Services has 250 active volunteers who donated 19,600 hours of service in 2014. These volunteers help promote animal adoptions, take photographs and write bios for online publication, assist with animal care in kennels, fill and clean Kong chew toys, bathe, exercise and socialize animals, foster animals in their own homes, raise funds, and help educate the public. Volunteers also provide quality time for dogs through the Hound on the Town program taking animals out into the community to expand awareness of adoptable pets. Bunnies get special attention too, and are provided plenty of natural grass and fresh air. Cats get quality time as well in Miller's Kitty Kottage, a comfortable 400-square foot shelter that can accommodate up to twenty cats in a sunny and cat-friendly environment allowing the animals to be seen and visited in a more natural setting without cages. Funds for the feline facility were donated by Sharon Miller in memory of her daughter, Cathy Jo, who shared her mother's love of cats. Animal Services was also the recent beneficiary of generous bequests from the Nicholas Alexander Deognes Troolines Trust and the Virginia J. Brown Trust totaling over $40,000 for the betterment of the animals and facility. Community sponsors donated funds as well as services including free and low-cost animal spay and neutering and, through working together with our many animal rescue partners made a huge contribution to the no-kill effort. The valued contributions from volunteers, local businesses, community groups and special bequests have allowed Ventura County Animal Services to come from a place of "yes" in providing care for the animals in our charge. The County of Ventura thanks and appreciates the efforts of all those who contributed to attaining the no-kill designation for our shelter. It takes a village, and yes, we ARE that village.
Click here for more information.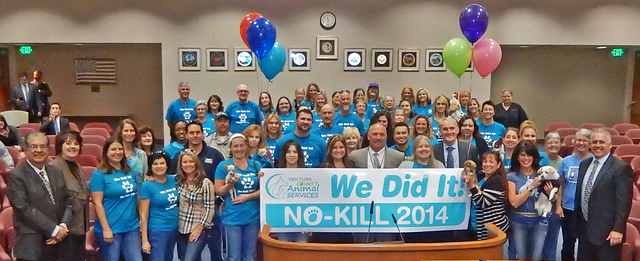 NOTE: As a convenience to our visitors, this page may contain links to external websites that are not managed or controlled by the County of Ventura.