Tax Rates and Other Information - 2009-2010
Tax Roles and Timeline of Events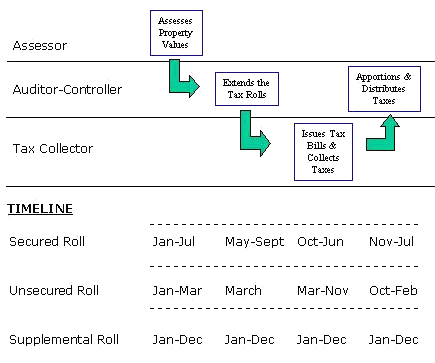 Secured Roll are real estate taxes.
Unsecured Roll are taxes on all property other than real estate, such as boats and aircraft.
Supplemental Roll are taxes due to new construction and changes in ownership in between normal tax role times.
Additional Information
Questions regarding the appraisal or assessment of real or personal property, tax exemptions, change of ownership or change of address should be addressed to the Assessor's Office at http://assessor.countyofventura.org/.
Questions regarding current or delinquent taxes, franchise taxes, or business licenses should be addressed to the Treasurer/Tax Collector's Office at http://venturapropertytax.org.
For more specific information, please select "Where to Obtain Information" from the above menu.
NOTE: As a convenience to our visitors, this page may contain links to external websites that are not managed or controlled by the County of Ventura.