Farmers Market and Certification
The Direct Marketing Program benefits the consumer and the agricultural community by supplying fresh produce for consumers at local Certified Farmer's Markets (CFMs) while providing growers with an alternative method to sell their agricultural products. These products include California-grown fresh fruits, nuts, vegetables, honey and eggs. Producers at these markets are called certified producers and to participate must obtain a certificate from the County Agricultural Commissioner (CAC) that documents what they produce and where they produce it. Growing grounds are inspected by Agriicultural Inspectors and each CFM is inspected throughout the year. The CFM pays separate fees for its market certificate and for market inspections. Each certified producer pays a fee for a certificate that includes a portion of the cost of the inspection of his growing grounds.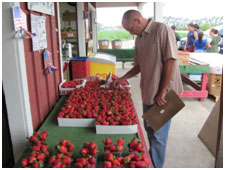 Consumers can be assured that they are buying products grown by local California farmers. Organic products are commonly offered at Certified Farmer's Markets for those consumers who have made this a priority. Complaints involving certified producers and certified markets are investigated by the CAC staff. Violators of direct marketing laws and regulations are subject to both fines and the suspension of their certificate to sell product at the Certified Farmers' Markets in California.
NOTE: As a convenience to our visitors, this page may contain links to external websites that are not managed or controlled by the County of Ventura.