Asian Citrus Psyllid
!!! STOP THE ASIAN CITRUS PSYLLID AND HUANGLONGBING (CITRUS GREENING DISEASE) !!!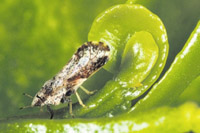 Owners of citrus trees should check their trees often for the sudden appearance of ACP.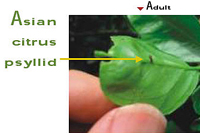 ACP is a tiny brown insect usually found in swarms.
The entirety of Ventura County was declared under quarantine for the Asian Citrus Psyllid (ACP) in December 2010. The ACP can vector the disease Huanglongbing (HLB) also known as "citrus greening disease". There have been zero (0) detections of HLB, in Ventura County.
In August 2008, ACP was found in California. The following counties are currently under quarantine -Ventura, Imperial, Los Angeles, Orange, and portions of San Diego, San Bernardino, Riverside and Santa Barbara. In March 2012 HLB was detected and confirmed in Hacienda Heights in Los Angeles County. Currently, there is no cure for HLB.
The California Department of Food and Agriculture (CDFA) has implemented multiple strategies to deal with the pest including mandatory eradication, treatments, containment, and release of predatory wasps. A monitoring/detection system is in place for ACP using sticky traps located in host plants to help detect any possible infestations as well. Destruction of HLB infected plants is the current method of eradication for HLB.
There are various requirements in place for the movement of host fruit and host nursery stock. The restrictions that the quarantine imposes are that host plants, and portions thereof, cannot move out of the quarantine area. Host plants can move within the quarantine area, but only after treatments. Commercial fruit can be moved outside the quarantine, but only under a compliance agreement and following cleaning. The CDFA's ACP Project handles the regulatory aspects of these requirements (contact information listed below).
If you believe you may have ACP, HLB or any other pest, please contact the CDFA Pest Hotline (listed below). Your information will be documented and tracked by CDFA and they will be able to help determine the pest you have and whether or not someone will need to collect an official sample. This process helps to streamline and prioritize efforts statewide.
| | |
| --- | --- |
| CDFA Pest Hotline (800) 491-1899 | |
Additional information about ACP and HLB can be found on the following links:
California Department of Food and Agriculture (CDFA)

Asian Citrus Psyllid (ACP) Quarantine Information
Asian Citrus Psyllid (ACP) / Huanglongbing (HLB)
United States Department of Agriculture (USDA)

Save Our Citrus
Citrus Research Board

Citrus Pest & Disease Prevention Program
Facebook Links

Ventura County ACP-HLB Task Force
ACP Treatment Protocols for Ventura County Commercial Growers
What you can do to help:
Keep homegrown citrus at home. Regularly inspect your citrus trees and look for any signs of HLB or ACP (please see informational links listed above for ACP host list, pest information, descriptions and distribution). When traveling abroad or in ACP/HLB infested areas don't bring prohibited products back with you. Report suspect ACP or HLB to the CDFA Pest Hotline listed above.
We appreciate your participation to help keep Ventura County safe from unwanted pests and diseases!
If you have further questions, please contact our office at: (805) 933-2926
Adult ACP 1/8 inch
HLB Asymmetrical leaf blotching
Yellow Shoots
Immature, bitter, lopsided fruit with darkened seeds
NOTE: As a convenience to our visitors, this page may contain links to external websites that are not managed or controlled by the County of Ventura.