About the Agricultural Commissioner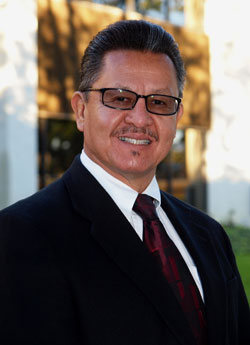 Henry S. Gonzales was born in Fresno, California, the son of migrant farm workers. As a child, he followed the crops around California, along with his family. The family finally settled in Salinas. At age 13, he started working on his own as a farm worker in the fields around the area during summer vacations from school and on weekends.
Henry fulfilled one of his two childhood dreams, graduating from a university, when he graduated from California State University, Fresno, with a BS degree in Agricultural Science.
He was hired by the Monterey County Agricultural Commissioner's Office, where he worked for 24 years. While with Monterey County, he worked as a Quarantine Insect Trapper before fulfilling his second childhood dream of becoming a scientist, when he promoted to the position of Agricultural Inspector/Biologist.
He later promoted to Deputy Agricultural Commissioner, where he supervised a branch office, and then promoted to Chief Deputy Agricultural Commissioner, where he managed three branch offices and a number of county-wide programs.
While working for Monterey County, he obtained his Masters Degree in Public Administration from Golden Gate University. Henry was instrumental in the development of the Monterey County Weed Management Area. He was also on the City of Salinas Planning Commission and served a term as Chair.
As Ventura County's Agricultural Commissioner, Henry and his staff oversee the County's $2 billion agriculture industry. In his role as Agricultural Commissioner, he is both a promoter and a regulator of agriculture. The major programs of his office include: Pesticide Use Enforcement; Pest Detection; Pest Exclusion; Pest Eradication; Pest Management; Fruit, Vegetable, Egg and Nut Standardization; Nursery and Seed Inspection; and Crop Statistics.
Since coming to Ventura, Henry has initiated an outreach effort to train Mixteco farm workers about pesticide safety by hiring a Mixteco-literate worker to assist with translations during training, inspections, and investigations. He also started a pesticide container recycling program that has diverted over 66,000 pounds of plastic from landfills. Additionally, he introduced a biological control agent (Estenopus villosus) to the County for control of yellow star thistle - a weed that is toxic to horses.
Henry is an ex-officio member of the Ventura County Agricultural Policy Advisory Committee and he is also a member of the California Agricultural Commissioners and Sealers Association (CACASA). As a member of CACASA, he sits on the Pesticide Regulatory Affairs, Finance, and Nursery Committees. Henry also represents CACASA on the California Department of Pesticide Regulation's Worker Safety Regulation Work Group. Additionally, he is a member of the California Department of Food and Agriculture's Ad Hoc Advisory Committee to the Office of Pesticide Consultation and Analysis, and the Polyphagous Shot Hole Borer Working Group. He is also a member of the University of California Statewide Integrated Pest Management Program Advisory Committee.
Henry serves on the Ventura County House Farm Workers! Task Force, the Ventura County ACP/HLB Task Force, and the Ventura County Weed Management Area.
Henry is married to Ruth and they live in Ventura with their four children.
NOTE: As a convenience to our visitors, this page may contain links to external websites that are not managed or controlled by the County of Ventura.